Our Purchase Template allows you to set up a page for constituents to purchase items (physical or virtual), event purchases includes the functionality to set up e-tickets as well as accept donations.
This article and training video will walk you through the set up of a new page.
In this video, you can create a shopping cart enabling you to sell:
Virtual items: Enable your supporters to fund projects or give a virtual gift. "Alternative giving" programs are proven and effective fundraising opportunities for any organization.
Tickets: Easily register attendees for your next gala, sports tournament or other special event.
Physical Items: Sell t-shirts, jewelry, sporting good merchandise or other items to support your cause.
Step 1: Click Setup New Event
Step 2: Select E-Store, Purchase Items, Ticketing and Catalog Event Template, click next

Step 3: Create a new event page or Copy a previous event page, click next>

Step 4: Choose the language of the pages, click next>

Step 5: Setup the event information, click next>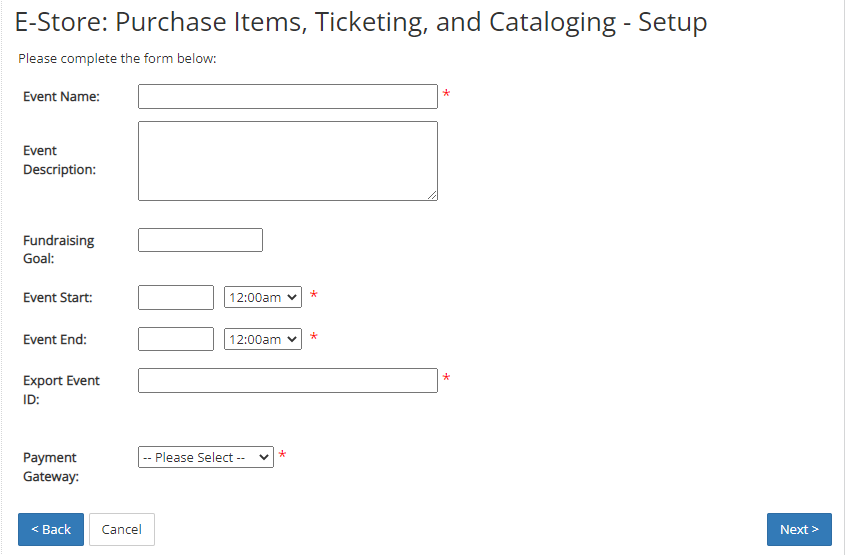 Step 6: Setup your items,
You will be directed to add at least one item to your shopping options.
Choose your item type from the drop down - general merchandise or e-card
Add an Item Name and Display Name
input your export id which will appear in your reporting
Add the item price - you can make it a $0 item, just be sure to check the box that says "This is a free item"
If the item can be tax receipted in full or in part, add that amount in (you can partially receipt an item)
Add in a description for your constituents
Establish the QTY available
Add a maximum QTY per order
Upload an image if you would like - follow the recommended image size
Add a Fulfillment Email address if you would like an admin to be notified of a purchase being made, and select "Add Another Email" if you want additional recipients
You can add more items here if you like by selecting "Add Another Item" or click next>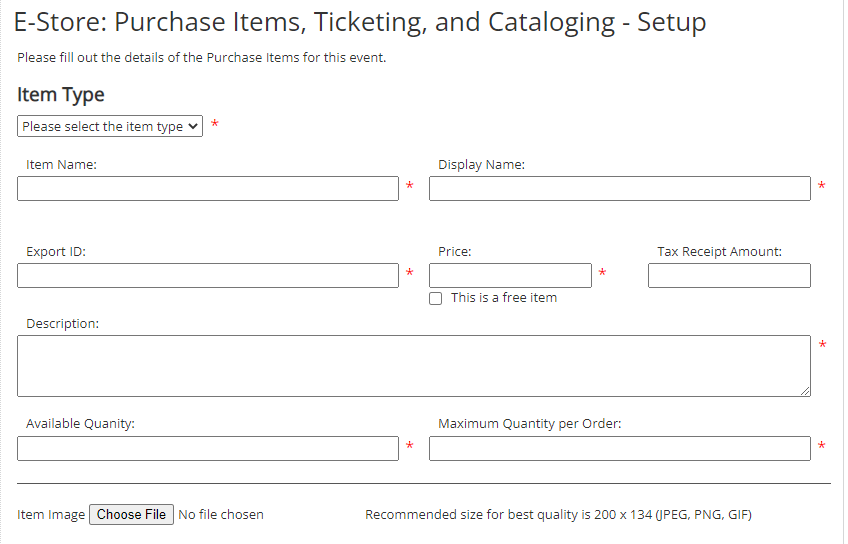 Please Note: You can setup one item during this step of the event setup and continue on to the completion of the page setup process. You can also setup all items during this process too, it is organization preference as items can be setup once the bones of the page setup is completed.
Step 7: Enter Sender/Reply Email Information, click next>

Step 8: Setup Donation Settings,
-If you would like to enforce a minimum donation select Yes, however generally this is not something implemented
-If you would like to ask donors if they would like to cover their processing fee, select yes and enter in a % or a $ amount. Note: do not input 100% as this will charge the donor 100% of the donation amount. In this section you want to set it to your actual transaction fee rates. Some clients will include the gateway fees as well. It is a best practice to turn this on and we usually see up to 40% of donors opt in to help cover the fees.
NOTE: The donor covers the processing fee will over apply to donations made if this is turned on and opted in - this does not apply to transaction fees for your purchase items
-If you would like to issue tax receipts for your donations select yes and your tax receipt template.
click next once completed>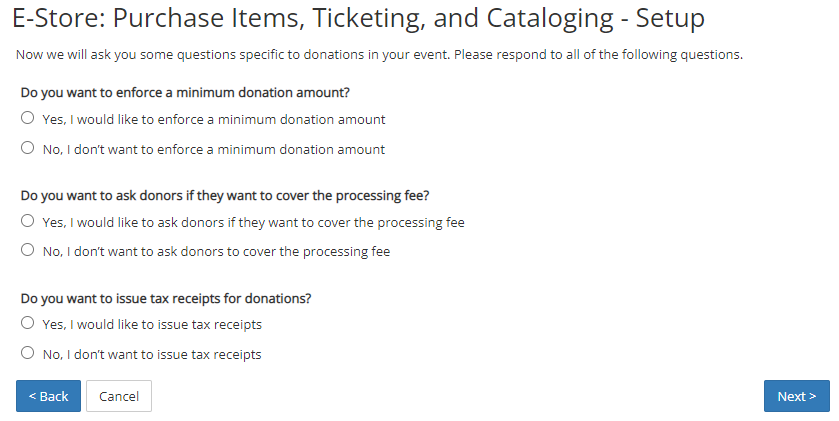 Step 9: Setup Header and Footer. Please note, this step can be skipped, click skip or next>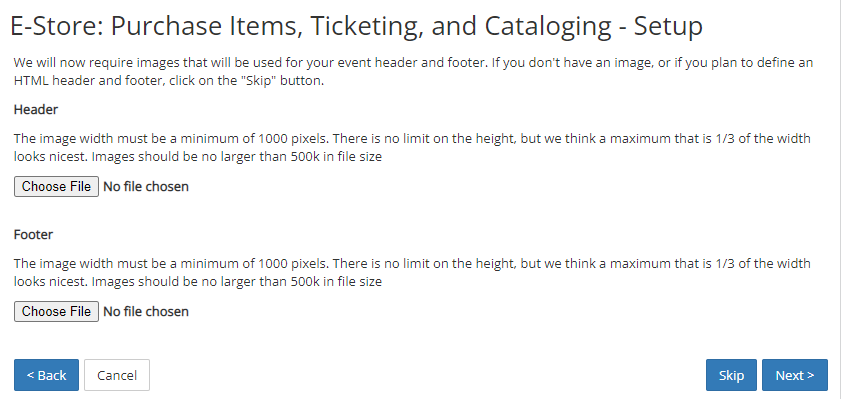 Step 10: Prompts you to complete the page setup, before you hit Finish you want to confirm the details of your event set up.
If you are happy with this, click Finish.
If you need to go back, select back and make any updates you need to make, click finish

Step 11: The successfully created page will appear, Click Done

Once the bones of the page are created, adding new items is quick and easy and collects all the information you need regarding the purchaser data.
To add more items simply click on the purchase items tab>create new purchase item: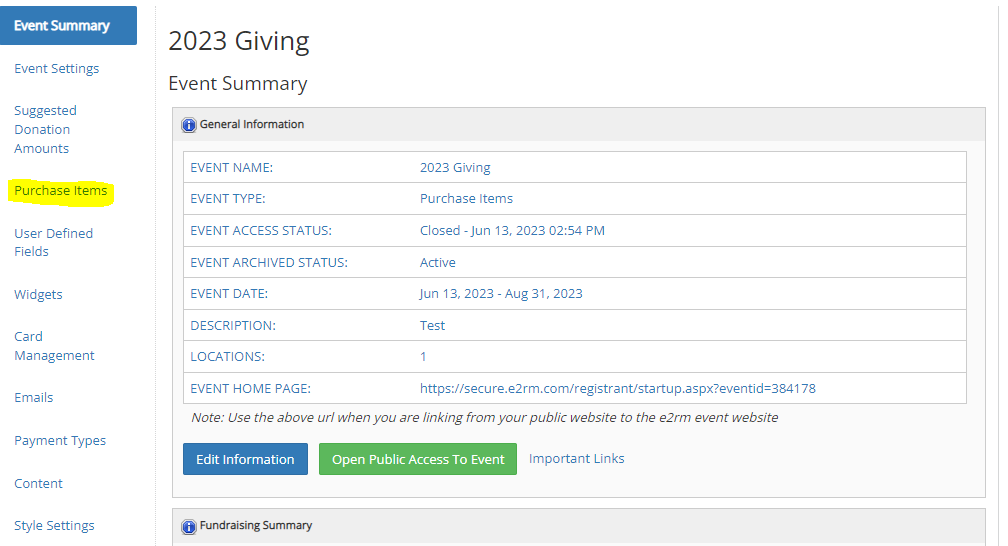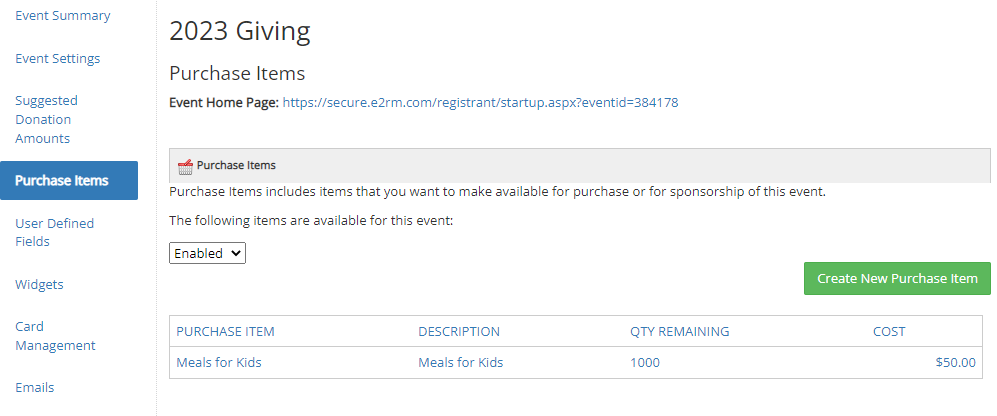 Once all items have been added to your organization's event page, open the page to the public and share with your community!