Let's Learn
We highly recommend using our own template for speed and accuracy of entering the data.
However, if you still wish to use your own template, see the instructions below.
How to Import Items Using Your Own Template
Go to Items > Import Items.
In the Select CSV File of Items section, click Browse to select your file from your computer.

If you have a zip file of images, go to Select Zip File with Item Images and click Browse to select the zip file from your computer.

Click on the Import Items button.
On the next page, you'll need to match your field names with ours. Select our matching field name from the drop-down menu.
Once you have matched the field names, click Complete Import
You'll receive an email (typically within 15 minutes) to let you know your import is complete. If there are any errors, the email will list all of the errors and how to correct them.


What to do if the Import Fails
Once the import is complete, you will receive an automatic Item Import Email which will provide you with confirmation to let you know if the files were imported successfully or if it failed. If it failed, the message will include a list of which rows and columns had errors in them. Once you make the corrections, you should go back to Items > Import Items and import the file again.
In addition to the Item Import Email, you can now see all item import results on the Import History page, to determine if updates are necessary to columns, fields or labels for auction items that may need manual input. The Import History page makes it easier to view and act on any import information.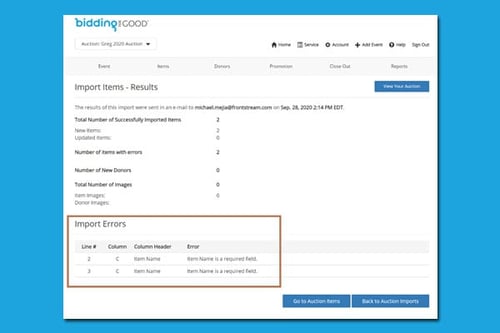 If some rows succeeded and others failed, you may want to only import the rows that failed again (after making the corrections, of course). If you're uncertain of what fields are required and how to input information in your spreadsheet, please refer to our Import Items Formatting Guideline requirements.