The Manage Cash & Cheque feature allows registrants to receive cash and cheque donations from friends and family and enter then into the system as Individual or Lump Sum offline pledge donations. If this is enabled along with the ability to pay-in the cash and cheques donors may then use their credit card to pay in some or all of the donations that they have collected.
Offline donations may also be called pledges until they are verified. Offline donations until paid-in will show as unverified (in relationships tab, exports and reports). An offline can be verified one of three ways:
Via the donor paying-in the offline donation with their credit card (if enabled): tax receipts may be issued dependent on set up (see offline content and settings below)
Via the relationships tab: tax receipts can be subsequently pushed out dependent on set up (see offline content and settings below)
Via the data entry tab: tax receipts can be issued if the batch is posted and tax receipts are set up for the batch and in the event
Offline donations can be enabled in an event by selecting the event > Event Settings > Enable Cash & Cheque tracking. If you also wish to allow registrants to pay these donations in by credit card you will need to enable the event setting > Enable payment of Cash & Cheque Pledges by credit card.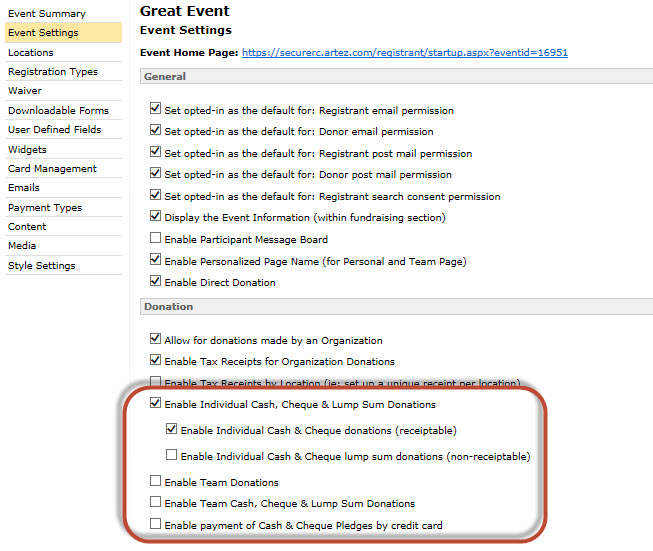 Once you have enabled the manage cash and cheques feature you can edit the following pages within your event in the Content tab.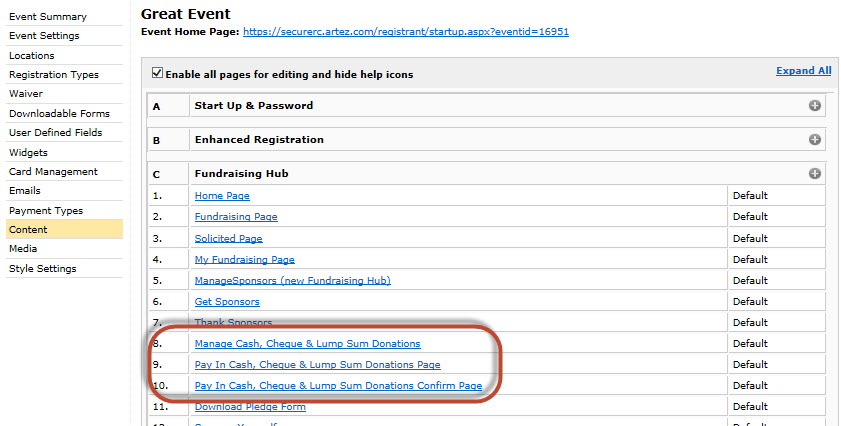 In order for an individual offline (cash and cheques) donation to be receipted the following conditions must all be met.
Receipts are enabled for the event (under email tab > Tax Receipt – Solicited Donation
Donations is successfully paid in (by registrant) and show as verified in the database
Donor first name
Donor last name
Donor email address
Donor full postal address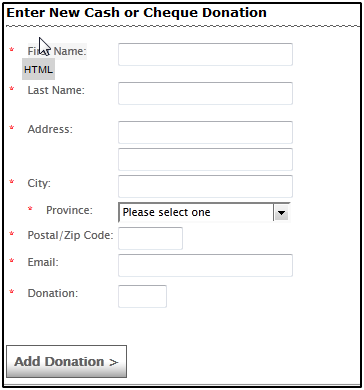 Lump sum offline donations will not be receipted by design. Examples of non-receiptable "lump sum" pledges include: Proceeds from offline events like a bake sale or a workplace donation from a group of coworkers. When a "lump sum" pledge is collected, a single tax receipt recipient does not exist.
Tip: Scoreboards, Thermometers and Donor Listings can be configured to show Verified or Total Amount Raised (verified & pledged)
Additional ways to verify offline donations:
Relationships Tab: Search the donor in question and update the Donation Status to Verified
Data Entry