MailChimp is an email service that allows you to reach prospects and donors using powerful email tools and services. GiftWorks Cloud can synchronize with MailChimp to ensure that all your organization's information is up to date in both systems automatically without manual exports and imports.
This article will help you set up your MailChimp and GiftWorks Cloud integration for the first time. If you are looking to update your initial setup and settings, please click here for a knowledge base article that will help you do just that!
How to integrate MailChimp and GiftWorks Cloud
1. In GiftWorks Cloud, click on "Tools" and then "Email Services"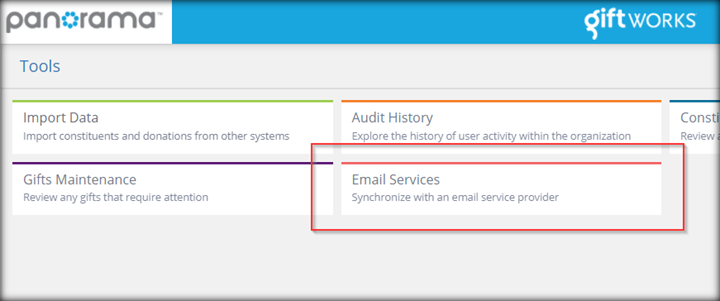 2. Click on MailChimp

3. If you already have a MailChimp account, click the "Link your account now" option. If you need to create an account, click the "Create a MailChimp account now" button, which will direct you to MailChimp's website.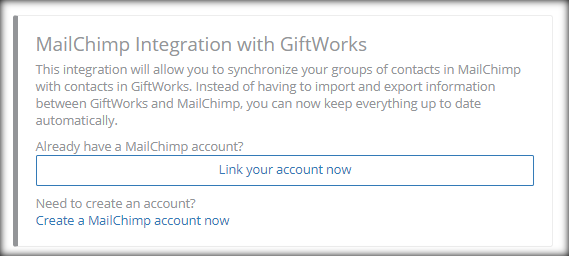 4. You will then be asked to authenticate using your MailChimp username and password as shown below: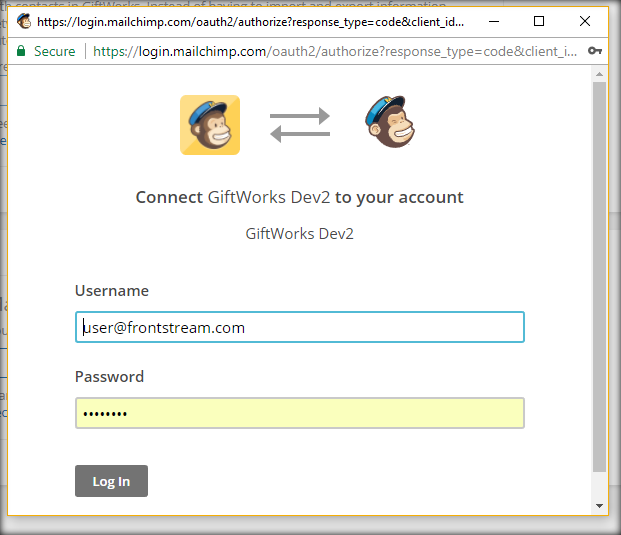 5. You will be presented with the groups in MailChimp (known as Mailing List in GiftWorks Cloud) that you can integrate with a list in GiftWorks. You MUST select a list that has at least 1 group to proceed to the next step. You can choose from two options: 
Create new records in GiftWorks Cloud OR
Do not create new records in GiftWorks Cloud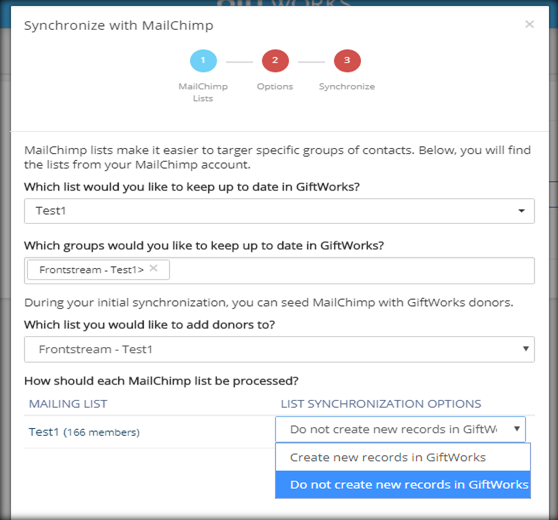 Please note: MailChimp Groups are GiftWorks Cloud Mailing List. For the purposes of integration and explanation, this article will now refer to those as Mailing Lists.
6. After you hit next, you will be able to choose if you'd how you'd like MailChimp and GiftWorks Cloud to sync. You can choose from two options: 
Only synchronize email addresses and contact lists OR
Synchronize selected fields between GiftWorks and MailChimp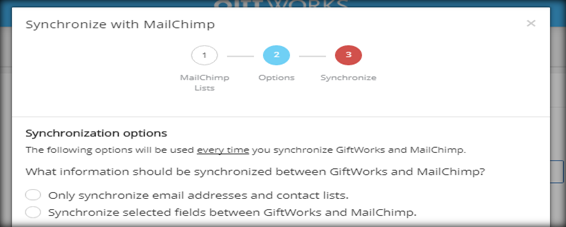 If you choose the first option, you will be guided to the next screen (skip to Step 7). If you choose the second option, you will asked to "click here to map your fields." This will allow you to pick fields that exist both in MailChimp and GiftWorks Cloud.

As you select your options (like the screenshot below), you are matching the fields that exist in MailChimp to fields that exist in GiftWorks Cloud.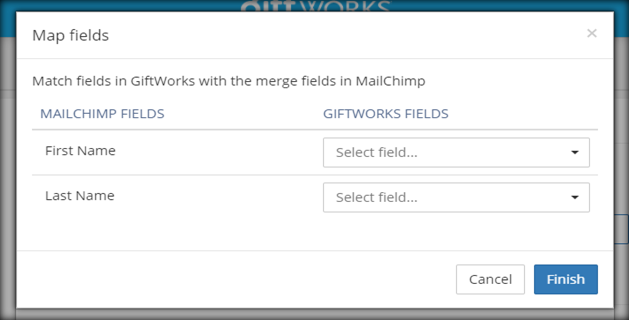 7. Next you will be prompted to choose whether you'd like to add new donors to MailChimp from GiftWorks Cloud, or if you would not like to add donors to MailChimp. If you select "Add donors as new contacts in MailChimp to the default mailing list," proceed with the steps below. If you choose "Do not add Donors to MailChimp," skip to step 8. 
The following options will be available to you if you opted to add donors as new contacts in MailChimp. Select the option that you prefer and click Next.
You will also be able to set Email Permissions from this area.
8. To inform you of all the actions that will take place in Giftworks you now have a summary/review page listing out in details what will occur at the time of Synchronization as shown below. You must verify these settings before clicking "Connect GiftWorks and MailChimp."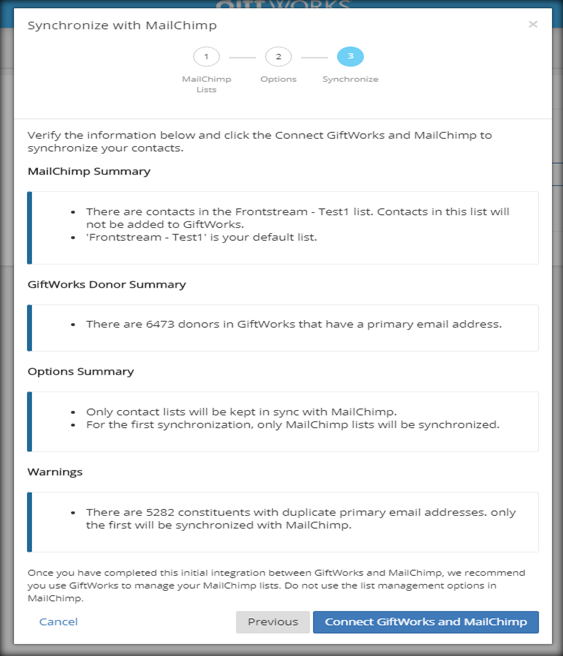 To make changes or edits to your initial GiftWorks and MailChimp integration, check out our article about updating and editing integration settings for MailChimp and GiftWorks after your first-time integration.