You can add new Individuals, Households, or Organizations to your GiftWorks Cloud database.
Organizations can include companies, nonprofits, corporations, and foundations.
To add a Constituent record to your database you will begin by going to the Constituents tab in GiftWorks Cloud. Once there, in the upper right hand corner of the screen you will see an Add Constituent button.
Step 1:

Step 2:

Entering Constituent Details:
On the third step of adding a Constituent record to GiftWorks Cloud, you will select the profile type for this record. Please note that Household and Organization profiles are not asked for a first, middle or last name field. You can add contact information (names) to the salutation and addressee areas of the Organization profile. The Household and Organization profile types are only able to list a Display Name. When choosing the necessary profile type for your Constituent, the fields will change accordingly.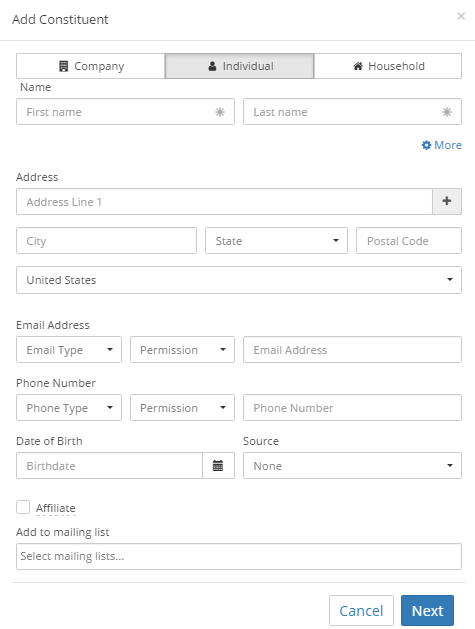 Entering Donor Contact Information:
The address entered within the Add Constituent profile will be the Primary Address for this Constituent. Once you've entered the address for this Constituent, you will follow by entering an Email Address and Phone Number. You will choose the Email/Phone Type (business, personal, other) and whether Permission has been granted to contact via Email or Phone.
After entering your new Constituent's details, you will select the Next button. This will direct you to any Custom Fields you may have entered into your Database followed by the Add Constituents button.
Tracking Additional Donor Information:
Formal and Informal Salutation: The salutation fields are used to store information you would typically like to see after the "Dear" in a letter. You can store both formal and informal salutation values for each constituent, which gives you flexibility for different types of communications.
An example of salutations for the donor John Smith might be "Mr. Smith" for formal and "John" for informal.
Formal and Informal Addressee: The addressee fields are used to store information you would typically like to see at the top of a mailing address (above the address itself). The addressee fields can have up to two lines, so you can put, for example, both a contact name and an organization name.
The formal and informal addressee options give you flexibility for addressing letters for different purposes.
Donor Picture: You can select a picture to be displayed with your constituent's record. It could be a picture of the constituent or a logo for an organization.
Employment Details: GiftWorks Cloud lets you track the following information regarding a constituents's employment; Job Title, Profession, Manager, Contact Type, Department, and Assistant.
Personal Details: You can select to input your constituent's personal information such as birthday, marital status, gender and education information.
Contact Preferences: GiftWorks Cloud tracks a number of contact preferences for each constituent. For email, phone, physical mail and solicitation you can choose whether it is okay to contact the constituent via that method, whether they prefer not to be emailed, called, mailed or solicited, or if they have no preference.

Please note: In the United States and Canada, if a constituent is marked as "not set" (there is no preference listed), you will still be able to send mail to those constituents. In Australia, if the constituent contact type is marked as "not set," you will NOT be able to send mail to those constituents. 

Development Details: For each donor, you can track a variety of information relating to your development and cultivation efforts. These include: Category, Status, Assigned To, Source, Member Since, Renewal Date, Accepts Match, Match Info, Issue Receipts, Receipt Group, Constituent Groups.
Custom Fields: Each GiftWorks constituent record includes over 40 fields for recording information about that donor, but organizations often want to track other information about their constituents. GiftWorks includes the ability to add custom fields to constituent records. See the Setup section for additional information.