Let's Learn
Through our newly available integration with fitness tracking platform provider MoveSpring, you can now turn any event built on the Peer-to-Peer Event Campaign Template into a gamified, virtual experience using steps and real-time activity tracking on a configurable map in place of an in-person event.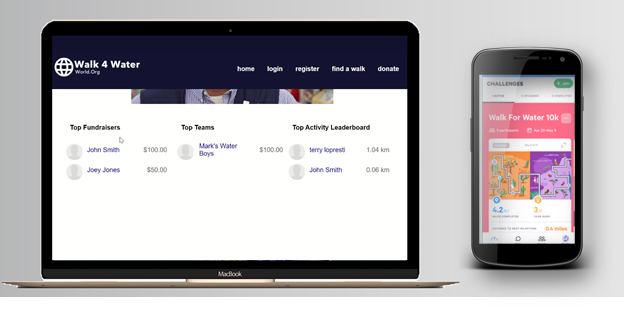 How to Enable Real-Time Virtual Activity
Step 1: To enable virtual activity tracking for your Peer-to-Peer event, log into your account and click on the Configurations tab in your Admin Console.
Step 2: Scroll down to the bottom of the left-hand menu and click on API Setup and Configuration.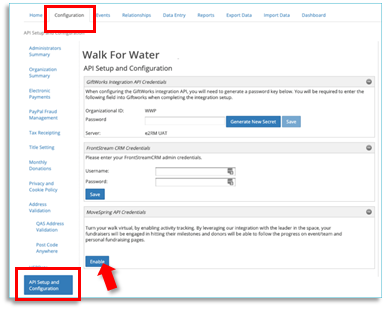 Step 3: In the bottom box labeled MoveSpring API Credentials click on Enable.
This will bring up a pop-up box that will allow you to send a request for the virtual integration feature to your Customer Success Manager.
Helpful Hint!
Make sure you have the following information ready to provide to your Customer Success Manager when they reach out to you about setting up your virtual integration:
Event name
Type of challenge (i.e. miles/km, steps or time)
Approximate number of participants
Start and end dates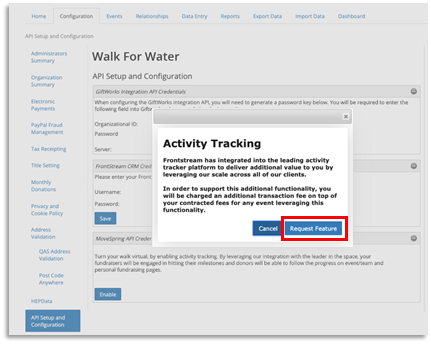 Step 4: Once your Customer Success Manager has enabled your MoveSpring Virtual integration, they will reach out to let you know your set-up is complete and provide you with additional information to help guide you and your participants through your user experience.
Helpful Hint!
Your Customer Success Manager will set up your integration based on the information you provide. However, after your event is set up you can go to Widgets, then Activity Tracking under the Event tab to edit the information you want visible on your personal fundraising page and on the leaderboards on your team fundraising pages, Event Home Page and Location Home Pages.

What Will This Look Like to My Participants?
After your event is linked with MoveSpring it's easy for your participants to connect their own fundraising activity. This video walks through the registration process, integration with MoveSpring and shows you how real-time activity appears on the event pages.
Step 1: Once registered, participants will get a message in their Fundraising Hub asking them to Join the Real-time Virtual Activity Challenge Now.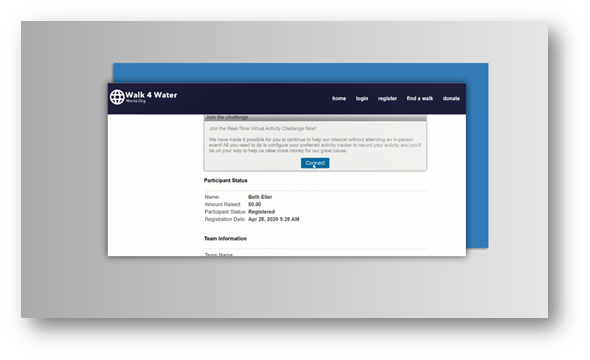 Step 2: When they click on Connect they will be taken to the MoveSpring application where they will be guided through the short process of connecting any wearable device or smartphone to this activity challenge.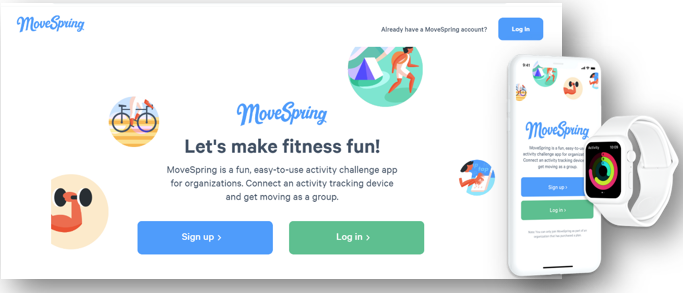 Step 3: Once the participant has successfully linked their MoveSpring account to their event registration, they will see the following My Activity section on the Home section of the Fundraising Hub. It will display the activity added in their MoveSpring account.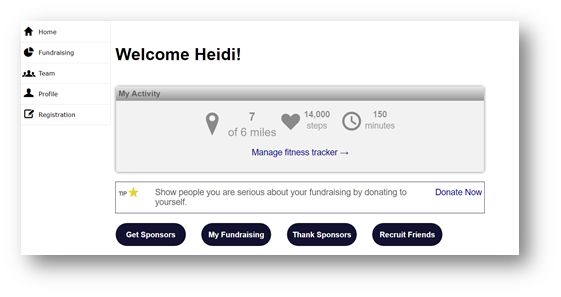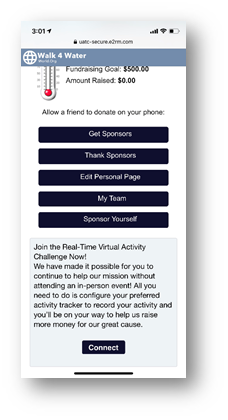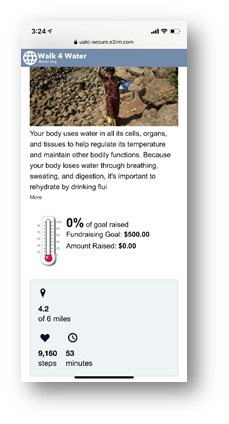 The participant's activity will record and update in real-time to their personal fundraising pages. As well, leaderboards will show real-time participant progress on the team fundraising page, and location and event home pages.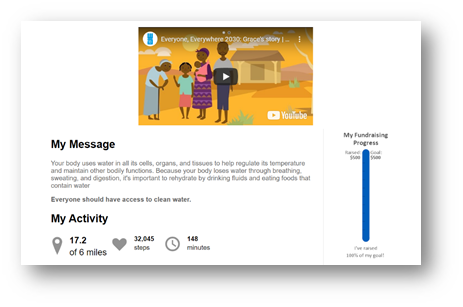 The participant can also view their real-time progress on the mobile MoveSpring Dashboard.