Let's Learn
What is the Refund Policy for Transactions Processed by FGF? 
Per our terms and conditions, transactions processed via Frontstream Global Fund are non-refundable.  However, as a convenience to our customers, we can often accommodate refund requests, as long as the transaction has not already been disbursed to your organization.  Please feel free to submit a refund request HERE and it will be reviewed by our Customer Care team.
If your supporter needs to be refunded and the funds have already been disbursed to your organization, the funds will need to be refunded to the supporter by your organization outside of Panorama. 
How to Issue a Refund for Transactions Processed by FGF
To Submit a Refund:
Login to your Panorama User account. 
Choose the project type your organization is submitting the refund for. 
Select the Panorama project type (Peer-2-Peer event, Campaign event or a Donation Page)>click donations tab>click the donor profile you choose to refund: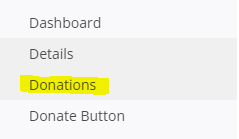 Clicking on a donor profile will open up the Donation Summary for the donation that was made. 
A "Request Refund "option has been added to the bottom of the Donation Details page in Donation Form projects.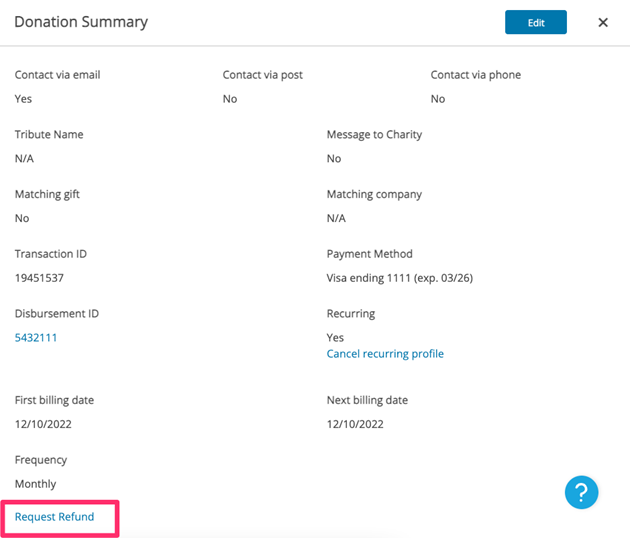 Selecting "Request Refund "will prompt the user to enter a Refund Reason. 
The request then goes to the Distribution team for review. 
The learn more about refunds will direct your organization to our help center article that outlines our refund policy and procedures for transactions made via FGF.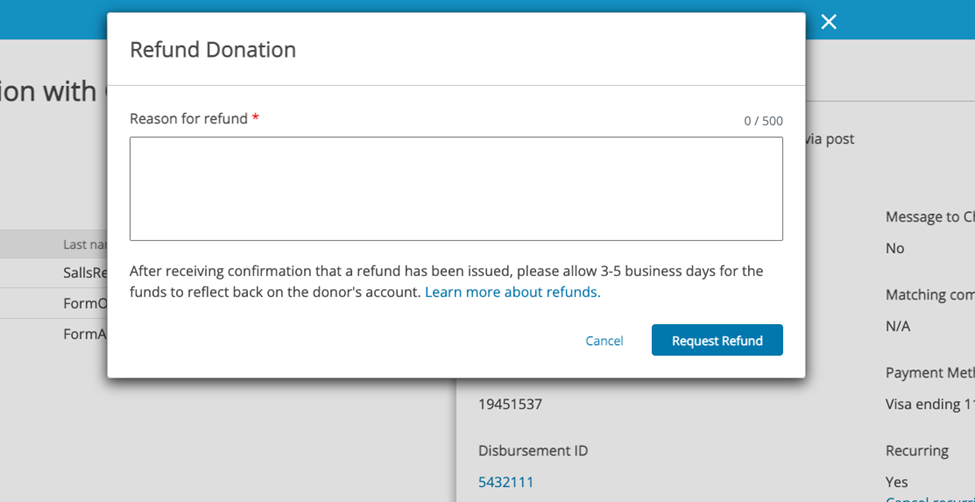 You can also submit a refund request HERE  if you run into any issues submitting your refund request. Be sure to provide us with the email address of the individual who made the transaction, the transaction amount, and the transaction date. 
After receiving confirmation that a refund has been issued, please allow 7-10 business days for the funds to reflect back on the user's account.
PLEASE NOTE:
The 7 day refund policy.
Any refunds that are submitted after 7 days of the donation or sale made are subject to be rejected. If the refund request is rejected, it is because the organization requesting the refund may not have funds to cover the amount via the fundraising software as the funds may have already been disbursed, which in this case we recommend the organization provides the refund directly to the donor/purchaser.