Let's Learn
Panorama was designed with our clients in mind. With our on-demand resources, we have made it easy for you to learn on your own when it's most convenient for you! This article is designed to help you get acquainted with Panorama and the Auction Manager.
How to Access Panorama
You can sign into Panorama at http://panorama.frontstream.com/ .
Quick Tip! Bookmark the Panorama login page for future use.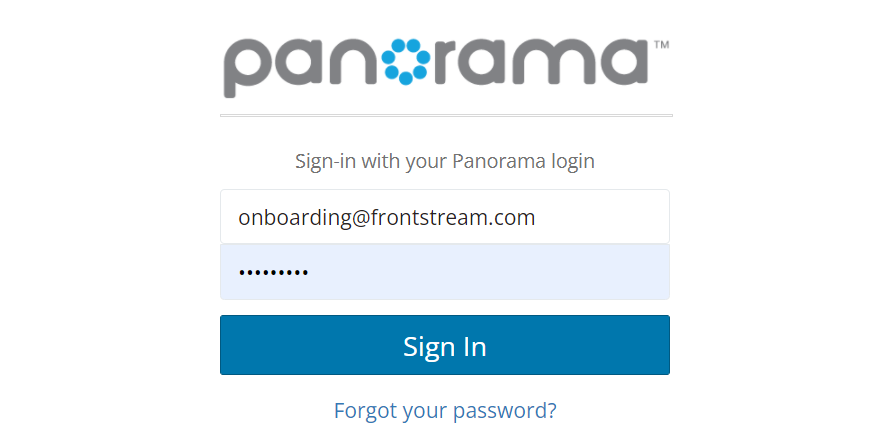 Your username-

is

your email address

If you're unsure of the email addresses associated with your Panorama login, submit a help request

here

.

Be sure to provide your organization's name and Tax ID if applicable.

Password

– is the one you've created through the activation process.

Forget your password? Click the

Forgot Password

link on the Panorama site to reset.
Tour the Panorama Dashboard
Actions you can take from the Panorama Home area are:
Creating new or accessing past

Projects

Managing

Smart Lists

for your Peer-to-Peer Projects

Accessing your

Panorama Account Settings

?

- Pull into our Resource Center to access Onboarding Tours, search for Help Center articles, submit or manage your Technical Support requests, access FrontStream Academy for in-depth training guides and articles and Share Your Feedback on Panorama and your experience.
How to Setup Panorama Users
It's important to give your team Panorama access. Learn more about Setting up User Permissions in Panorama which is done through the Account menu where you can help provide your team with full or partial permissions for Panorama access.
For auction-specific team member access such as auction committee members, auction volunteers, etc, you can give full or partial permissions within the auction manager. Learn more about How to Add, Manage, and Remove Auction Team Members.
Create an Auction Project
Select the Create Project button to begin the project setup and choose the Auctions project type.
If you are hosting a Live In-Person auction or looking to sell tickets, click here for a step-by-step walkthrough on how to set up your event.
Click here for a step-by-step walkthrough on how to set up a Virtual auction.
Tour the Auction Manager
Learn more about how to access current and past projects.
Event Dashboard
Start to Finish of the auction process we start from the left tab and work our way over to the right as we go through the stages of our auction.

Event

- in this area you will build out the bones of your auction and update any high-level settings

Items

- this is where you will go to add new items and do all of your item management

Donor

- in this area you will setup your item donor and event sponsor profiles

Promotion

- use this area to create and schedule email blasts to promote the auction to your supporters

Close Out

- this area is key for managing your different points of sales and processing payments to close out your auction, updating your fee settings, and customizing automatic emails

Reports

- here is where you can find an abundance of reports available for you to gather more auction information all throughout your auction.
The Event Dashboard also tracks various types of auction stats and information, you can view at a quick glance.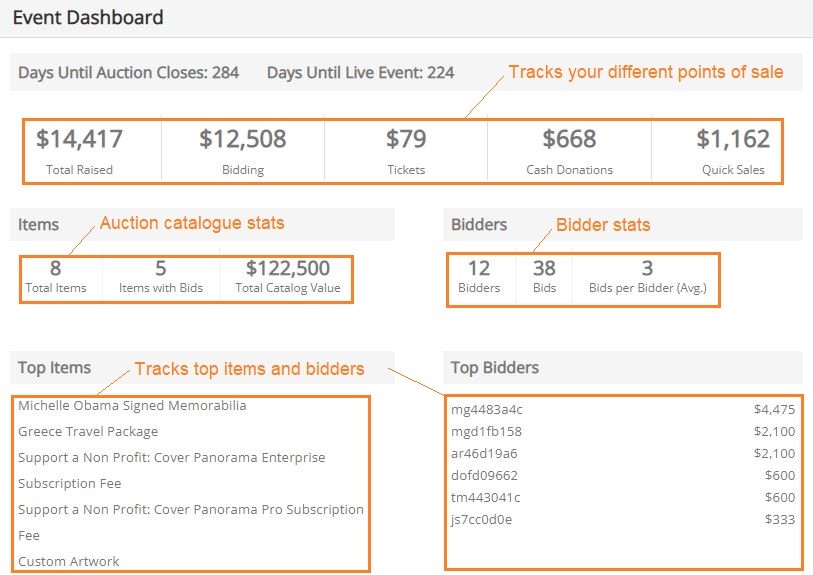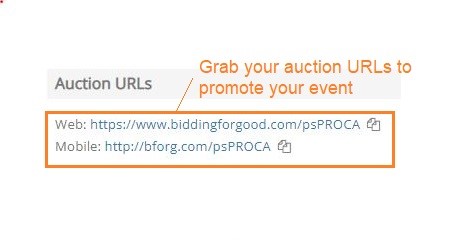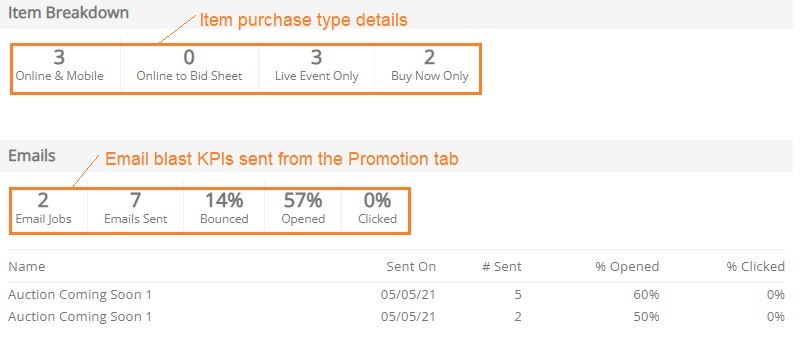 Access Auction Event Planning Guides
To host a great auction, preparation is key! Click here to access resources that will ensure to set you up for success
Key Configurations to Launch Quickly
Let's pull into each tab and touch on the key configurations needed to get started quickly.
Event
Items
Donor
Add your donors and sponsors to the system. Once you

add your sponsors

associate them with a sponsorship tier to activate the

Global Sponsorship Center

.

Add donors

or

Import donors

into the auction manager and then associate them with the item they donated to give them recognition on the Item Page.

Once you add a donor into the system, pull into the Items tab and associate the donor with the item they donated to give them recognition on the item details page.

You can

edit your donors and sponsors

at any time
Promotion
Promoting your auction is important to let your supporters know your auction event is coming and to keep them in the loop.

You can

import

your mailing lists or

sync with constant contact

.

Next,

create

your emails from our variety of default email templates and

schedule

them to be sent on a specific date and time.

If you decide to generate your mailings outside of the auction manager, feel free to use the verbiage from the email templates we offer.
Close Out
Let's prepare ourselves to feel confident on How to Close Out Your Auction.
If having your supporters cover the processing fee is important to you, manage the Pay-the-Fee feature to

Invite donors and bidders to cover the processing fee.

Review and customize your Winning Bidder email which is the receipt sent after you award items to the winning bidders. To update the generic message, go to

Close out > Get Ready > Winning bidder email

.

Helpful Tip!

We recommend adding information about shipping fees, pick-up dates and times, etc. to help bidders know what to expect.

Once your online bidding end date has passed, you'll navigate to the Closeout tab and closeout your auction.

Closeout

is a two-step process:
Reports
Let's learn more about the What Type of Reports You Can Run to get more data on your auction.
Here's a list of some reports you might find helpful now that your auction is closed:
Awarded Items Report

This report includes purchase information for your items, including the payment method and amount, and the winners' contact information. It also includes a section of items that didn't sell. It will only include items that have been awarded under Close Out > Award Items.

Item Donor Report

This is a list of all of your items with their respective donors. It also includes the items' leading bids and the estimated value. This is a great report to use when putting together your donor thank you letters.

End of Auction Report-

Your End of Auction Report is a comprehensive analysis of your most recent auction with BiddingForGood. It includes an auction overview, key auction results, donor engagement, daily revenue, top-performing categories, item detail, bulk email sends by day and email usage.

Credit Card

T

ransaction

R

eport-

Lists

all

the credit card transactions that have been put through the system to the payment processor chosen. It will show the bidders contact information, amount, type of card used, Response Code, and Response Details

.
Getting Technical Support Assistance
FrontStream Help Center – set-up videos, how-tos, helpful articles, and other helpful resources for all of our products.
Technical Customer Care – contact us here . They can also be reached by telephone at 1-800-687-8505, option 1.