Let's Learn
We recommend that you create a new account for each person who will be using the Auction Manager Platform. Each person needs to have their own account as it is also linked to their bidder account which contains personal information.
Please note: You must have Invite Team Members and Edit Permissions selected in your team member account permissions to be able to do this.
How to Add a New Team Member
Step 1: From the Panorama toolbar click on Account in the top menu, select Users and then click on Add User.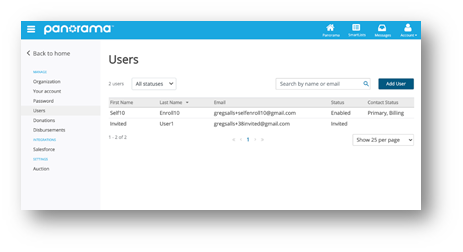 Step 2: Fill in the new user's prefix, name, email, phone number and time zone.
Important Information! Be sure to enter the email address using all lower case letters.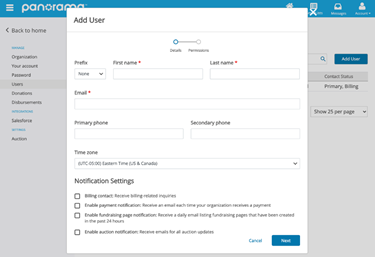 Step 3: Check the appropriate Notification Settings and then click Next.
Billing contact - will receive billing-related inquiries
Payment - will receive notification when a payment is made
Fundraising page - will receive a daily email that provides a list of fundraising pages created in the last 24 hours
Auction - will receive emails for all auction updates
Step 4: Select Organization permissions and then click Add User.
Click on

Select all

to give user all permissions or enable each permission checkbox as needed.
Admins can select view only or view and manage for organization details, account users and manage projects.
Step 5: Click on Projects to grant access only to specific projects.
You can enable users by Project by enabling the check boxes beside the project
If an event has locations, they will appear under the project name checkbox and you can give users access to one or more event locations.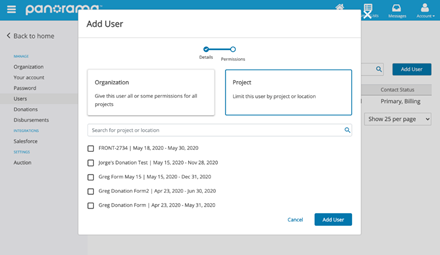 Step 6: Click Add User.
This will send an invite to the new user asking them to set a password to set up and log in to their Panorama account.

Helpful Information!
If you are having trouble with inviting a new team member, make sure they are signed out of Biddingforgood.com and Panorama before trying the link if they already have an account. We also recommend using a secure modern browser such as Google Chrome, Edge, or Firefox. Try using another web browser if you experience an issue with the invite link by copying it from the email and pasting it into another web browser and trying again. You can also try to clear your cache and cookies. Still cannot login? Please try clicking on the go to the old BFG login at the login page and see if the user is able to log in there.
How to Manage a Team Member's Auction Permissions
There are 13 permissions based on the features of the Auction Manager that can be set individually for each team member's account. The permissions can be adjusted under:
Event > Set Up > Team Members > Select Edit next to the team member that you wish to modify permissions for. Please note that only someone with full access rights can modify the permissions for other team members.

These are the different permissions to be selected:
Invite Team Members and Edit Permissions
Update Organization Info (includes contact us information, org address, billing info)
Update Auction Info (includes adding a new auction, changing auction dates and times)
Update Live Event Info (all event details under the section Event>Live Event Info)
Set Payment Processor, Award Items, Process Payments (access to all of close out)
Create/Edit Home Pages
Create/Edit Items
Create/Edit Categories
Create/Edit Item Sections
Create/Edit/Send Emails and Import/Export Email Lists
Create/Edit Donors and Sponsors
Create Quick Sales and Create/Edit Live Event Bidders
View Reports/Print Material
How to Remove a Team Member
To remove a team member from having access to the Auction Manager:
Step 1: Go to Event > Set Up > Team Members
Step 2: Click the Remove link next to the team member account that you wish to delete.
To remove a team member's Panorama access:
Step 1: From the Panorama toolbar click on Account in the top menu, select Users and then click on the name of the User from the Users list, then click Disable at the top.
Step 2: Click Disable on the pop-up.
Note: Once users are disabled, they will not be able to log in. However, users can be enabled again at any time.