The Constituent Merging is found in  the "Tools" section and quickly solves any duplication issues.  
Step 1: Click Merge Constituents within the Tools section of GiftWorks Cloud. 

Step 2: Elect a Primary and Secondary Constituent for the merge process.
Note: The Secondary Constituent is removed from the database with any attributes such as notes and activity history moved over where the Primary Constituent has not already captured it fully.

During this process you also have the option to preview the merge by displaying exactly what fields will remain on the merged constituent after the process and what fields will be removed. The level of granularity shows you exactly what you will be getting after the merge takes place which we think is excellent.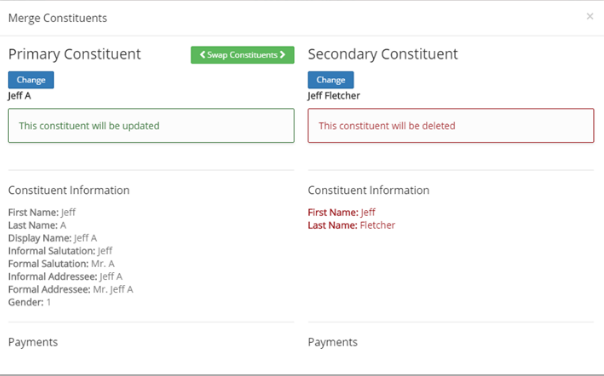 To ensure complete transparency during this merge process, we also prompt your actions, and give full disclosure of all actions about to take place during the process. You then get all the information up front and get to give that all-important confirmation to the Giftworks application before proceeding.
Note: Fields will only be removed from the Secondary Constituent never the Primary so you don't lose any important details.