Receipt History:
When a receipt has been issued for a specified donation recorded in the system, you can see the receipt details in the Gift record. 

You will only be presented with the above Receipt information when the Receipt has been issued. In the case where the Gift record has not been receipted you will see the below information only where you can then add the receipt to a pre-existing receipt group in the database.

Reissuing Receipts:
You can now select to clear and re-issue receipts in Giftworks as shown in the screen-shot below you can click on the "Clear Receipt" from within a Gift record. Once cleared here the information relating to the receipt is removed from the Gift record.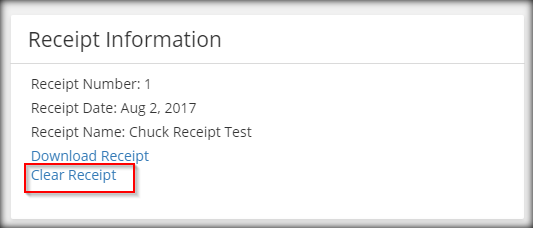 You can then select to re-issue the receipt should you wish to do so. In order to track the re-issue of the receipt in the system once the receipt has been re-issued there will be a flag on the new receipt stating that it is replacing the previous receipt and list the associated numbers for both in the Receipt Status merge variable where were it the first receipt and not a receipt re-issue it will simply state "Original".
If you have any questions, please contact our Customer Care Team by email at giftworkscloudsupport@frontstream.com or call us at 800-687-8505 opt 2 opt 4.