Let's Learn
The registration process is intuitive and easy for your participants. Click here for more information on how to edit the registration process.
How Participants and Teams Register for Events
Step 1: Participants will click on the Register button on your event page to start the process.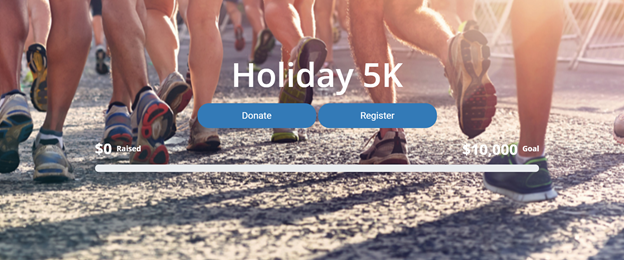 Helpful Tip! You can update the text on the Register button to say something different like Get Involved or Join Today. For more information on how to edit your Event Page call to action buttons, click here.
Step 2: If your event has more than 1 location, your Participants will then be prompted to select a location for which they would like to register.
The Location Selection page only appears to users if there is more than 1 location created for the event. If there is only 1 location setup, all registrants will default to the single location.
For events with more than 1 location, there will be a search bar that allows registrants to search for a specific location. there is also an Image View and a List View that can be toggled in the Event Builder. Below are examples of both:

Step 3: Once Participants have selected their location (if applicable) they will select their registration type.
The following page will be displayed if the event has multiple registration types and teams enabled. Registrants will have the choice of Joining a Team, Creating a Team, or continuing as an Individual registrant (no team association) depending on your event settings. Depending on what the participant selects, the user will be directed to a different page.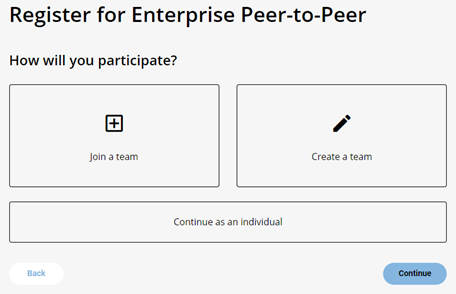 Join a Team

: If participants select Join a Team, they are directed to this page where they are shown a list of available teams to join. This list can change depending upon event settings. The user also has the option to search by team name to limit the results if there are many.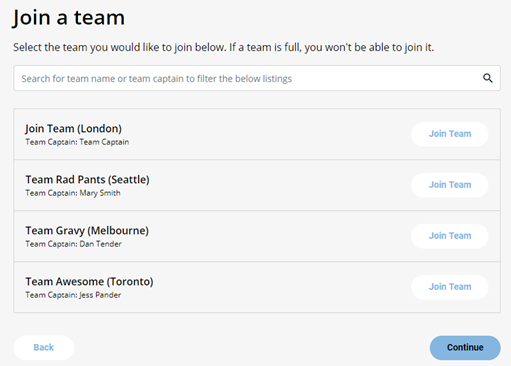 Create Team: If registrants choose to create a team, they will be prompted to enter their team name, team fundraising goal, and team description. They can also choose the visibility of their team by determining if the team appears in search results or on the leaderboards.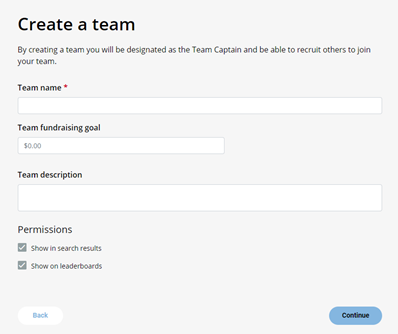 Individual-:If registrants choose to register as an individual then they just click on Continue as an Individual and then click Continue
Step 4: Once Participants have decided how they will participate they will choose their Registration Type will and then click Continue.
Important Note! There are many different scenarios for selecting a registration type. It depends if Participants are registering themselves or themselves and others. It also depends if they are creating a team or joining a team.
Below are a couple of common scenarios and how they look on the new registration pages. If the event only has a single registration individual registration type and a single group registration type, the Registration type page will not appear, and the application will auto-assign these registration types as they are the only ones that are available.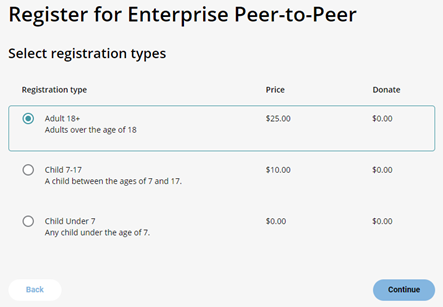 Important Note: Here Participants are only allowed to select a single registration type because the Proxy Registration settings are disabled in the event.
Team Captain (Create a Team): For this registration type an Individual registration type must be selected for the team captain and a group registration type must also be selected if there is more than 1 setup for the event.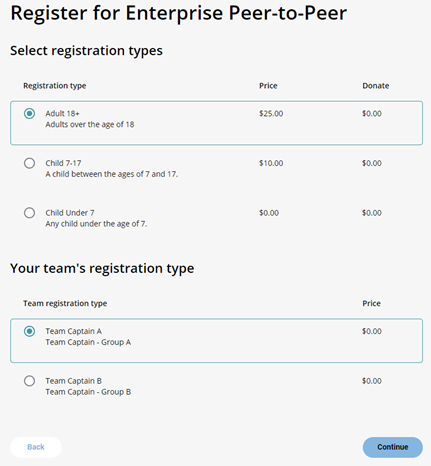 Individual with Additional Registrants: For this registration type you can select all three types and all three registrations will be completed during the registration process. All Fees will be paid in one payment on the checkout page. There is a limit of 10 total registrants that can be selected in the dropdowns.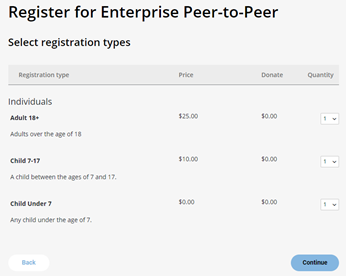 Team Captain (Create a Team) with Additional Team Members: Here you will choose the team captain's individual registration type and the Group registration type for the Team.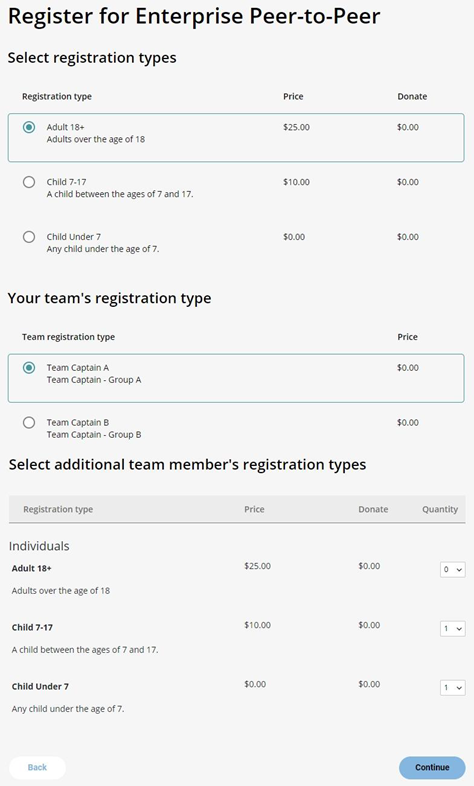 Step 5: After choosing their Registration Type the Participants will be prompted to create their account.
The information entered here will be their login to the Fundraising Hub. An Email, Username, and Password are required for a registrant account. Users, that already have an account should select Have an Account? Log In. Registrants also have the option to login with Facebook. This will connect their Facebook account for future access with valid Facebook credentials.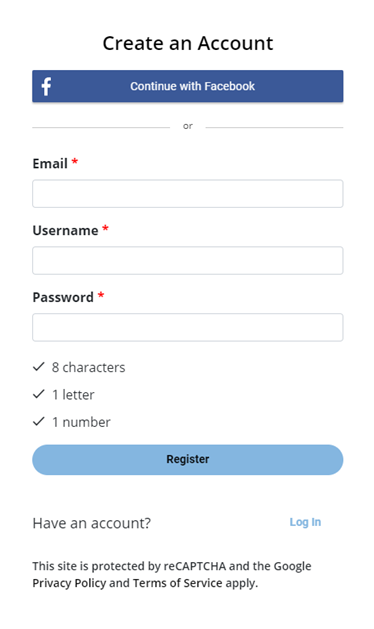 Step 6: Participants will then fill in their contact information. The contact information page is used to collect all the registrant's data. It can be customized quite a bit in the Event Builder. Contact information, Permission Questions, User Defined Fields, and Waiver are captured on this page. The same page is used for Proxy Registrations.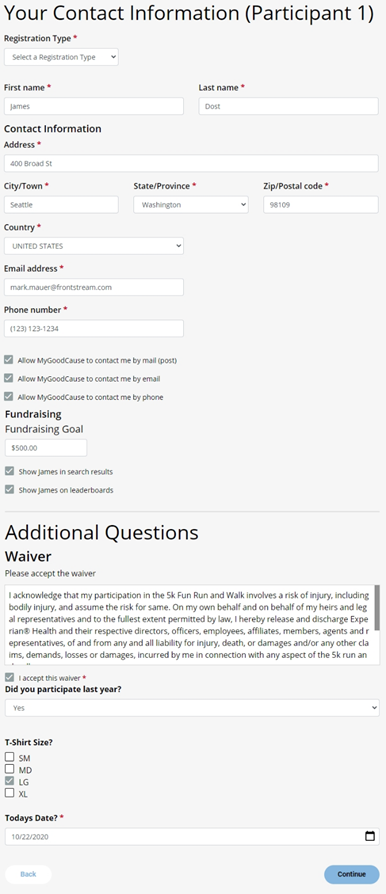 Step 7: The final step in the registration process is checking out. This is where Participants will pay for their registration fee (if applicable) and then review and complete their registration. During this step, participants are given the option to donate to themselves.
Once a Participant clicks on Pay they will be shown a registration summary like below: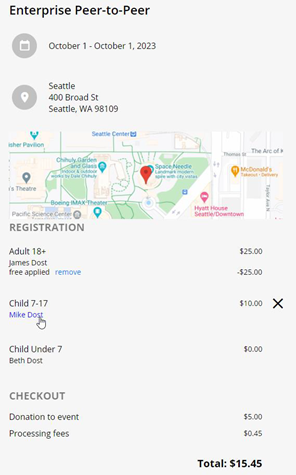 After completing the registration process, participants will be brought to their Fundraising Hub where they can start customizing their fundraising page and begin inviting friends and family to donate.