The remittance report is designed to provide a detailed breakdown of the transactions within a certain processing batch that have been sent for funding. The report should be able to be used to reconcile settlement deposits to the merchant's bank account. To access the report click the Reporting link in the left navigation panel and select Notifications.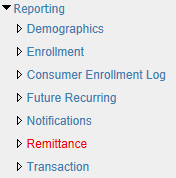 Once the merchant selects the desired date and clicks the submit button the report will be displayed. 

The merchant will be able to see a total number of records, as well as total volume, displayed at the bottom of the screen.