To add a new group, click the Add Payment Item Group button in the upper right corner of the screen. To edit each group, go into the group and make changes and click Save.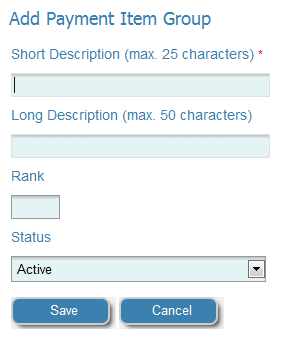 Short Description – This is the description the consumers will see when viewing the payment page.

Long Description – This field is used for a more detailed explanation of the group. For internal use.

Rank – The rank option allows a merchant to assign a rank to each payment code group which controls the order the groups will display. If no rank is present the groups will display alphabetically. 

Status – The status allows the group to be set to inactive if no longer needed. If the group is set to inactive any payment items assigned to that group will also no longer display.
Deleting a Payment Code Group 
Click the delete icon next to the appropriate payment code group. This will remove the group from the database however any associated payment items will continue to exist.