Let's Learn
What is the Donation Form?
This is a branded online donation form that you can add to your organization's website. The design can match the look and feel of your website or be campaign specific. With the Panorama Donation Form, you can have unlimited donation forms and build each form your way.
How Can it Be Used?
The donation form can be used to raise funds for a specific appeal or campaign. Many organizations use the donation form to raise funds for awareness weeks or months, Giving Tuesday campaigns, or to raise money for one-time appeals. It can also be used as a general donation form year-round on your organization's website.
Through this project type, your donors can make one-time donations or you can invite donors to set up recurring gifts or gifts in memory/honor. Donations through the form are fast and secure and ensure a seamless donation experience for your donors.
How to Create a Donation Form
To begin building and customizing your Donation Form, please sign in to your account.
Once signed in, you'll be directed to your Panorama dashboard.
Step 1: Start by selecting Create Project

Step 2: Select the Create Donation Form button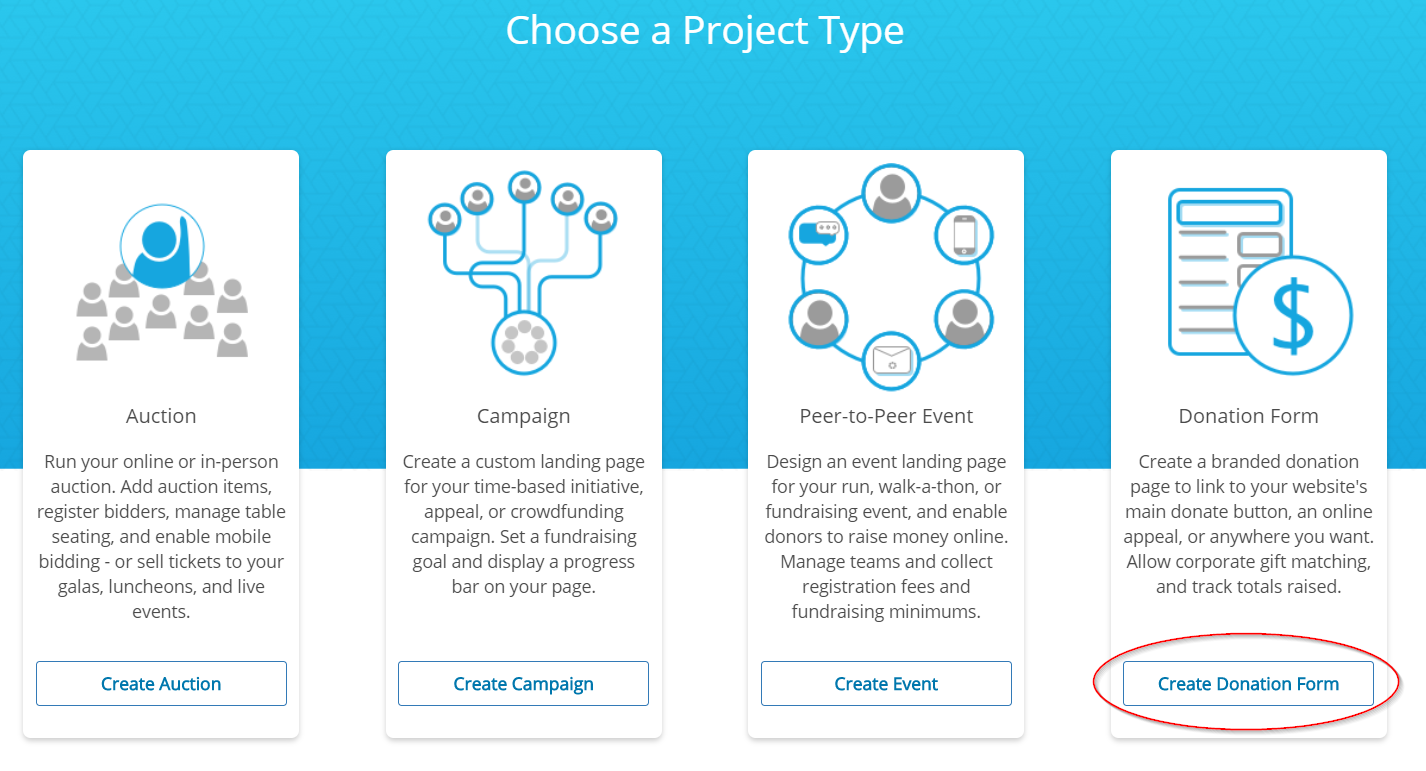 Step 3: Set your project name, description, goal, and end date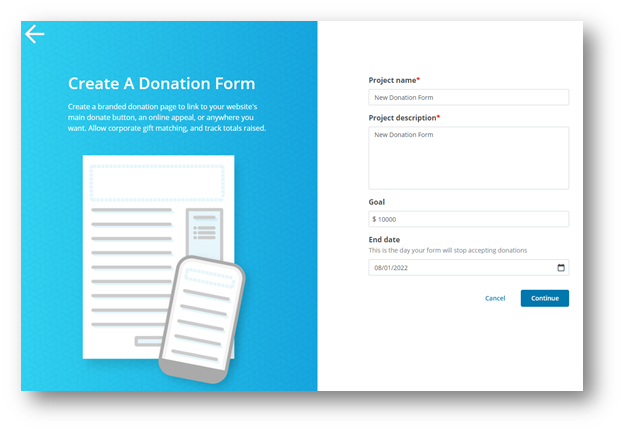 Step 4: Choose from three different page template options
FYI: You are able to update the template at any time!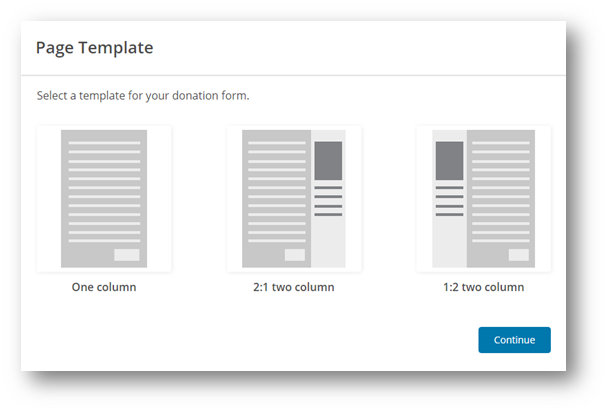 Step 5: Now you will be prompted to customize your Donation Form.

Pages: Edit the different pages of the form
Here you are able to customize your Thank You message and Campaign Ended verbiage.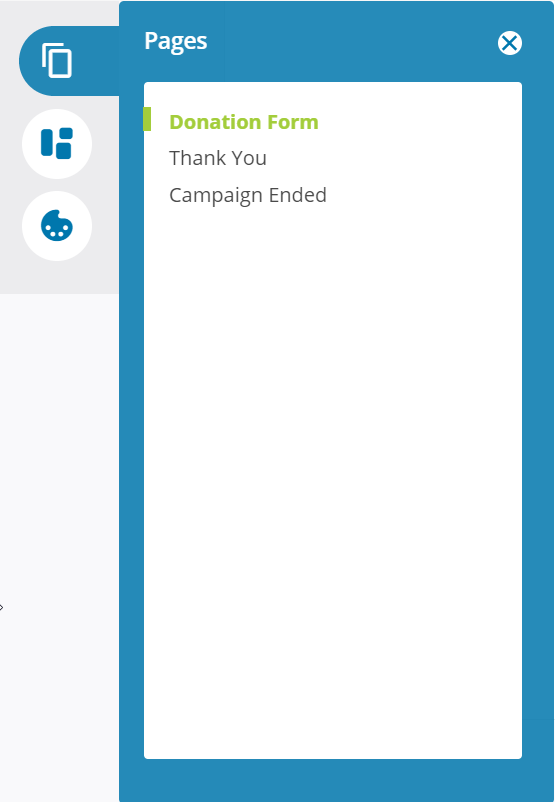 Content: Edit the content of the form
If you have enabled a template that includes a left or right column, in this section, you will be able to add text or images to that column and customize the background color.
Under Donation Form, you are able to edit the following:

Donation Title

Edit the title of your Donation Form

Donation Amount

Invite donors to pay the processing fee
Implement a minimum donation amount
Enable recurring donations
Set custom giving amounts

Quick Tips!!

"Allow recurring donations" must be enabled to use custom amounts for monthly donations.
When editing custom amounts, our system will always reorder the amounts to be lowest to highest.
Custom amount descriptions are the same for One-Time and Monthly donations.
Custom amounts cannot be set lower than the minimum amount (if applicable).
Minimum amount cannot be set lower than the lowest custom amount (if applicable).
Tribute Giving

Allow your donors to give donations in honor or in memory of an individual

Donor Information

Decide what information you want to capture from your donors such as title, middle name, address, etc.

Contact Information


By enabling this feature you prompt donors to provide their telephone number.
You also have the option to make this a required field.

Permission Questions
Matching Gifts

Maximize your revenue by allowing donors to indicate that their donations are eligible for a company match!

Custom Questions


In this area, you are able to create a new question, edit an existing question, remove, or delete a question that has never been answered.
You are able to choose from a variety of question types:

Multilist (Multiple Checkboxes)
Checkbox (Single Checkbox)
Radio Button
Date (dd/mm/yyyy)
Date (mm/dd/yyyy)
Dropdown List
Text Box
Number
Currency
Text Area

Once a custom question has been added it will appear on the Donation Form and can be answered by donors.
Answers are captured to Panorama Donation Detail and Giftworks Cloud donation details.
Quick Tip!!

Custom Questions can only be deleted if the question has never been answered.

Payment Information

Edit the title of your Payment Information section

Social Share Widget

You can add a Social Share Widget in the content section that lets your supporters further their support of your organization by sharing their contributions to their own personal Twitter and Facebook social media pages
Step 1: To add a Social Share Widget to your Donation Page open your page in the Panorama Event Builder and click on the Content Icon in the left menu.
Step 2: Click in the Content dropdown menu and click on Add Content and select Social Share from the Select Type menu.
Step 3: Click on Add and your Social Share content will appear on your Donation Page.
Step 4: Click anywhere inside your social share content to edit what you want it to say and click Save in the upper right corner of the Event Builder to save your edits. Be sure click Publish to make your changes live.

Theme: Edit the look and feel of the form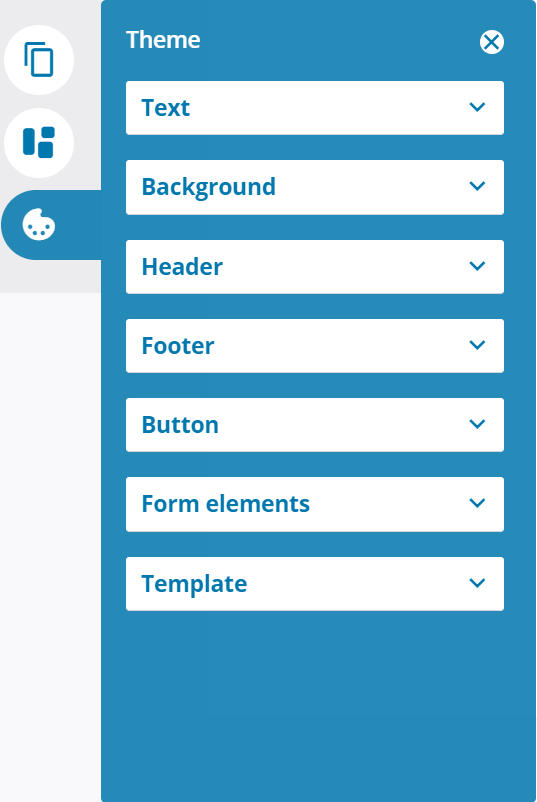 Step 6: After you have completed the setup and saved your form please make sure you Publish the form to make the page live.
Step 7: To share your page select the option to Share

You will then see the option to share to Facebook and Twitter.
To embed the form on your organization's website, copy the link and provide it to your organization's webmaster.
Helpful Information! If you need to issue a refund to one of your supporters' please submit a refund request HERE. Be sure to provide us with the email address of the individual who made the transaction, the transaction amount, and the transaction date. This article outlines our refund policy and procedures for transactions made via PGF.
Learn More
For a step by step guide on how to create your Donation Form and best practices please click here!