Let's Learn
To begin building and customizing your Campaign, please sign in to your Panorama account.
Once signed in, you'll be directed to your Panorama dashboard.
How to Create a Campaign
Step 1: Start by selecting Create Project

Step 2: Select the Create Campaign button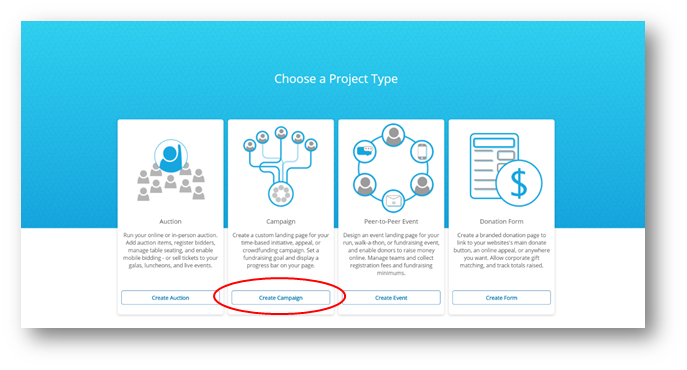 Step 3: Set your project name, description, goal, campaign start, and end date.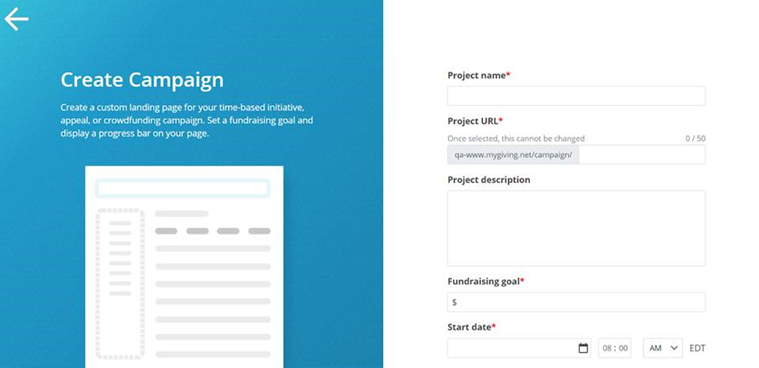 Helpful Tip! Campaigns with fundraising goals and Fundraising goal thermometers create a gamified experience for your donors and participants and have the potential to help raise up to 35% more for your organization.

Step 4: Choose from three different page template options.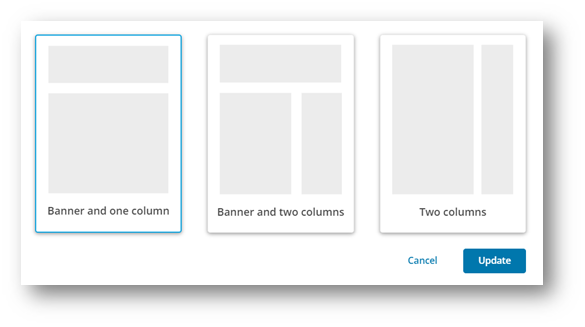 Helpful Tip!
You are able to update the template at any time by clicking on the Theming tab in the Event Builder Editor then clicking on Template > Change Template. Please keep in mind that if you have already made customizations to your Campaign page, those changes will be lost if you switch the template.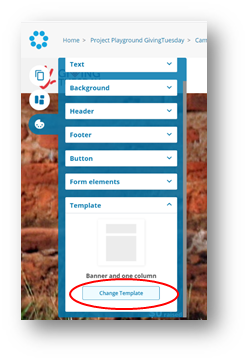 Step 5: Now you will be prompted to customize your Campaign.

Pages: Edit the different pages of your Campaign
From here you are able to navigate between your main Campaign Page, Donation Pop-up Page, and Campaign Ended Page to edit the different content.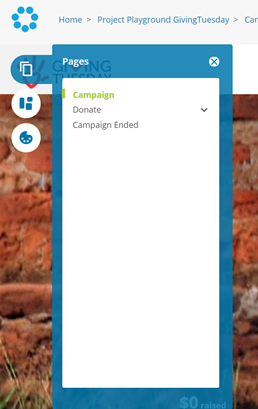 Content: Update the content of your different Pages.
Editing the main Campaign Page
If you have enabled a template that includes a Hero or banner image, in this section you will be able to add an image to that column and customize the color of your progress bar.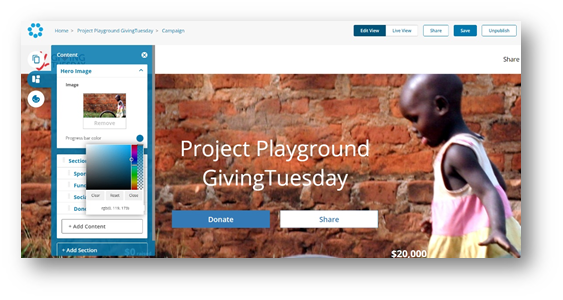 Below the Hero Image section, you can add content sections to your columns such as Text, Image Gallery, Sponsor listings, Fundraising Progress (including a real-time countdown display and fundraising thermometer), Video, Social Sharing, and a Donor Listing.
You can set each section to display across the full, half, one third or two thirds of the page. We encourage you to set and change the size of the sections until you get the combination displaying just right.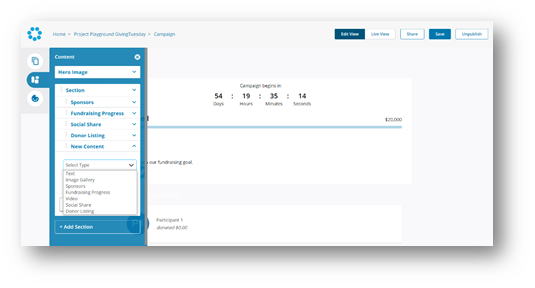 Editing the Donation Page
To edit the content on your Donation Page use the pages tab, click on Donate > Donation to bring up your Donation Pop-up page.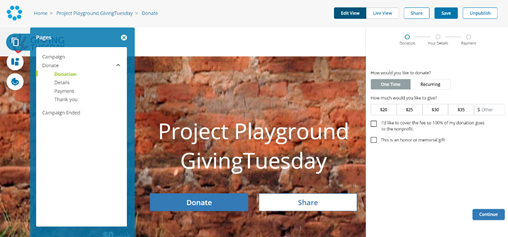 Then use the Content tab to edit and add elements to your Donation page. Click on Donation Form > Donation Amount to turn on:

Donor Covers the Fees option
Minimum donation amount
Recurring Donations (monthly, quarterly or annually)
Suggested Donation Amounts (four options required)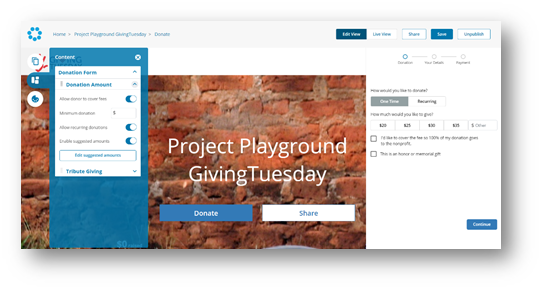 Quick Tips!
Allow recurring donations must be enabled to use custom amounts for monthly donations.
When editing custom amounts, our system will always reorder the amounts to be lowest to highest.
Custom amount descriptions are the same for One Time and Recurring donations.
Custom amounts cannot be set lower than the minimum amount (if applicable).
Minimum amount cannot be set higher than the lowest custom amount (if applicable).
All four custom amounts must be created to enable this feature.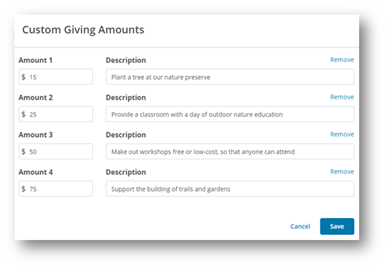 To enable Tribute Giving, on the Pages Tab click on Donation Form > Tribute Giving

Here you can toggle Allow Tribute Donation on or off
By turning on Tribute Giving, you will enable in honor or in memory donations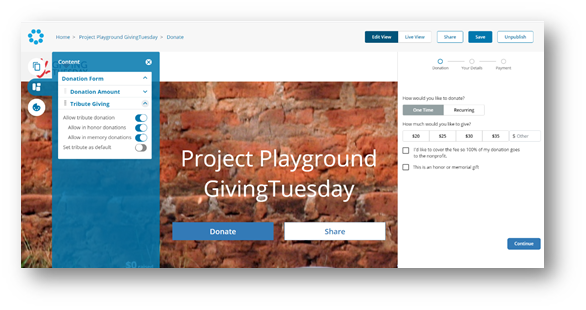 Editing the Donor Details Page
To edit Donor Details on your Campaign Form use the Pages Tab to navigate to Donate > Details, then click on the Content tab.
Donor Information: Here you can add what additional information you want to capture from your donors such as title, middle name and a second address line.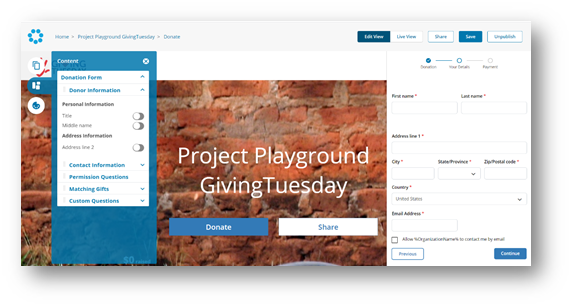 Contact Information: By enabling this feature, you prompt donors to provide their telephone number. You also have the option to make this a required field.
Donor Listing: Enabling this option will ask donors if they'd like to show their name in the list of donors on the Campaign page.
Permission Questions: These questions are required and cannot be edited.

Matching Gifts: Maximize your revenue by allowing donors to indicate that their donations are eligible for a company match!

Custom Questions: In this area, you are able to create a new question, edit an existing question, remove, or delete a question that has never been answered.

You are able to choose from a variety of question field types:

Multi-list (Multiple Checkboxes)
Checkbox (Single Checkbox)
Radio Button
Date (dd/mm/yyyy)
Date (mm/dd/yyyy)
Dropdown List
Text Box
Number
Currency
Text Area

Once a custom question has been added it will appear on the Campaign Form and can be answered by donors. Answers are captured on the donor record on the Panorama Donation details page. You can click on the donor's name to see their detailed donation information.
Helpful Hints!
Remember to periodically save your work while working on your project by clicking the Save button on the top right of the screen.
To see a preview of your project before publishing it, toggle to Live View.
Editing the Thank You Page
You can edit the Thank You section that shows after a donation has been made by using the Pages Tab to navigate to Donate >Thank You.
Then use the Content tab to add sections to your columns such as Text, Image Gallery, Sponsor listings, Fundraising Progress (including a real-time countdown display and fundraising progress bar), Social Sharing, and a Donor Listing.

You can enable similar sections on the main campaign page and the campaign ended page, so you may need some time to try displaying sections in the different locations to see what you like best.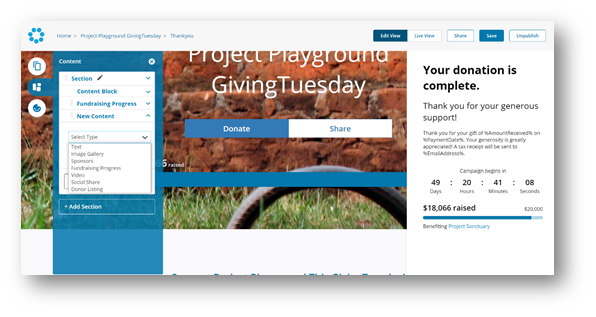 Editing the Campaign Ended Page
You can edit the Campaign Ended page that shows after your campaign has ended by using the Pages Tab to navigate to Campaign Ended.
You can add content sections to your columns such as Text, Image Gallery, Sponsor listings, Fundraising Progress (including a real-time countdown display and fundraising progress bar), Social Sharing, and a Donor Listing.
We recommend adding a link to your general donation page on this page so prospective donors who missed the campaign deadline can still support your organization.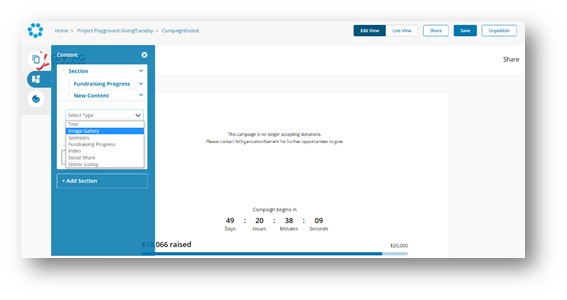 Theme: Use the Theme tab to edit the look and feel of the form. You can edit elements such as font style and color, add a logo, customize headers and footers, background colors, and button styles.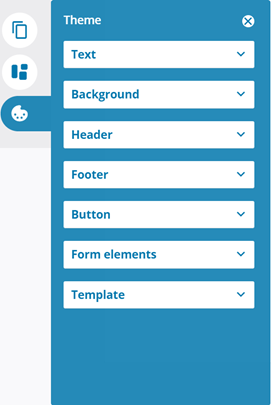 Step 6: After you have completed the setup and saved your form please make sure you Publish the form to make the page live.
Step 7: To share your page select the option to Share

You will then see the option to share to Facebook and Twitter.
To embed the form on your organization's website, copy the link, and provide it to your organization's webmaster.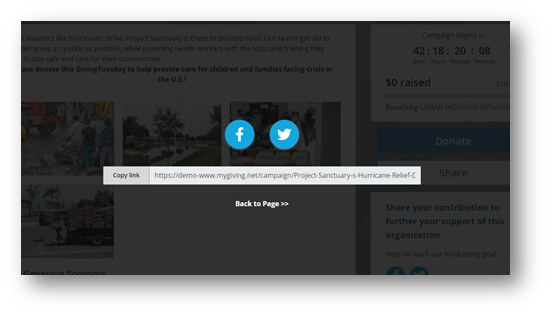 Helpful Information! If you need to issue a refund to one of your supporters' please submit a refund request HERE. Be sure to provide us with the email address of the individual who made the transaction, the transaction amount, and the transaction date. This article outlines our refund policy and procedures for transactions made via PGF.