Let's Learn
By selecting the drop-down menu next to Account from the Panorama toolbar you will be able to switch the organization's account you're currently logged into if you are associated with more than one organization using Panorama, manage your Organization Profile, update Your Account, update your Password, manage your organization's Users, view your Donations Report, and access your Disbursements Report.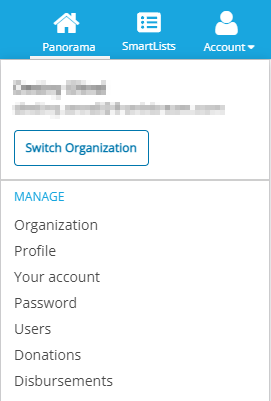 Organization
In this area, you can update general organization information such as:




Profile
Here you can upload your organization's Logo, provide your Mission Statement, and manage Email Layouts for your Panorama Peer to Peer events. For more information on how to create or manage your Email Layouts, please click here. 
Please note that the logo uploaded in this area will be the default logo for any newly created Panorama Campaign project pages. The Mission Statement will be added only to your auction's Contact Us page.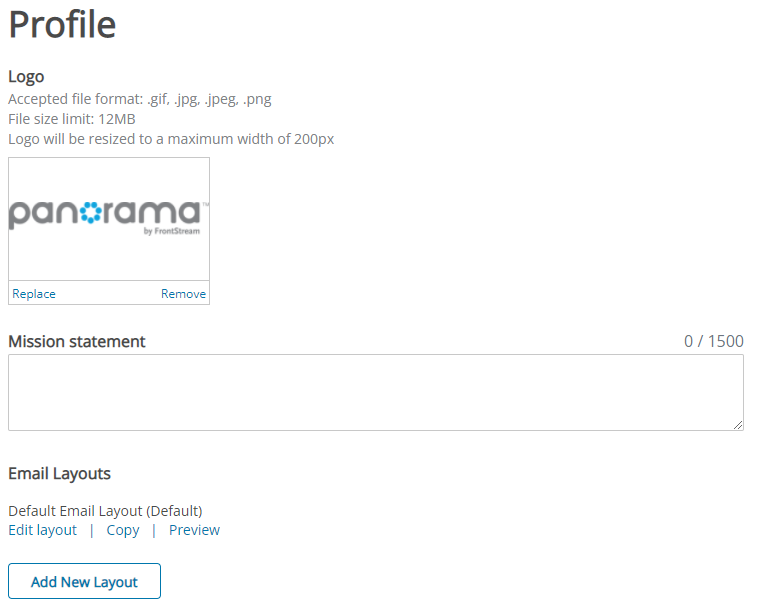 Your Account
In this area, you can make changes to the First Name, Last Name, and Email Address associated with your Panorama user account. Please note that if you update your email address this will update the email address you use to access Panorama. 

Your Account, now shows a Notification Settings section which allows the user to enable email notifications whenever a FrontStream Global Fund Disbursement is sent to your organization. 
Please Note: This will only appear for US organization's who are a 501c3 verified NPO.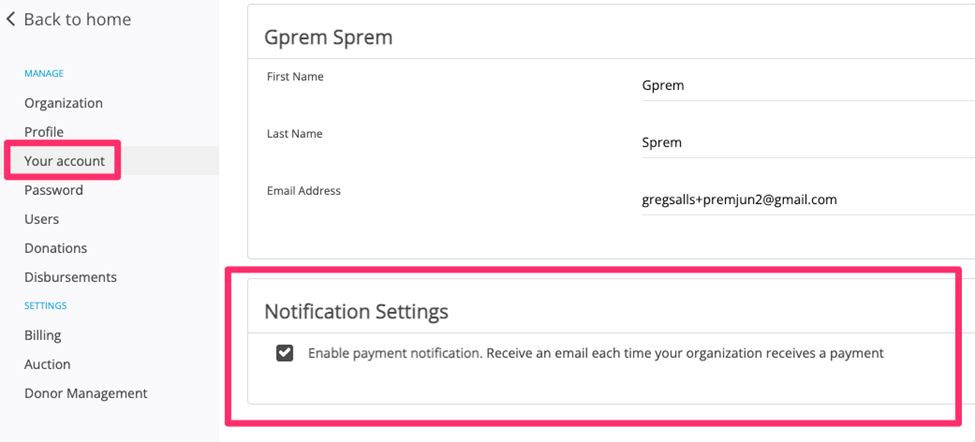 Here's an example of what the email notification looks like:
Password
This is where you can update the password associated with your Panorama login. 

Users
Here you can add new users, manage existing users, and see the status of the users associated with your organization's Panorama account. This is also where you can appoint a Primary Contact for your organization. For more information on how to add a user, resend a user's invite, appoint a primary contact, edit an existing user, or disable a user, please click here. 
Are you associated with more than one organization that uses Panorama? Click here for information on managing multiple organizations under a single login. 

Donations
Here you will find donations processed by Frontstream Global Fund (FGF). You can use this report to learn more about the donors who have contributed across all of your Panorama projects.  
Here you can use the Donation Type field to filter donations by project type, search for a specific donor by first or last name, or use the Start and End Date fields to pull donations for a specific period of time. 
Additionally, you can export the report into excel to view full donor data. 
Disbursements
Here you can view detailed reports for funds received from your Panorama Peer-to-Peer events, Campaigns, Auctions, and Donation Forms. To view the detailed breakdown of a specific disbursement select the disbursement you wish to view. 
For more information on the Disbursements Report, click here. 

Settings
Towards the bottom of the Account drop-down menu, you will see a section titled Settings.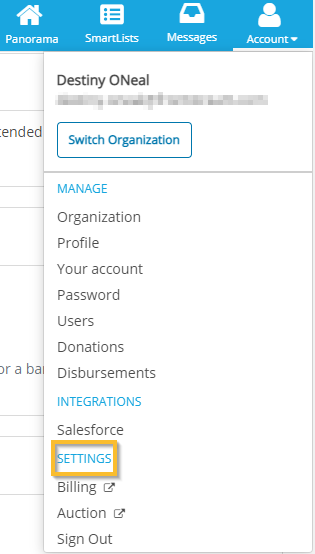 From here, by selecting Billing you will be prompted to send an email to our FrontStream Billing Team. For more information on invoicing and how to navigate your billing portal, click here. 
By selecting Auction you will be directed to the Auction Manager Event Dashboard for your current auction.
You can also end your Panorama session by selecting Sign Out.