The Event Summary page can be found in all forms.  This Event Summary page houses all of the information about your page, including your Event Name, Type, and Date etc.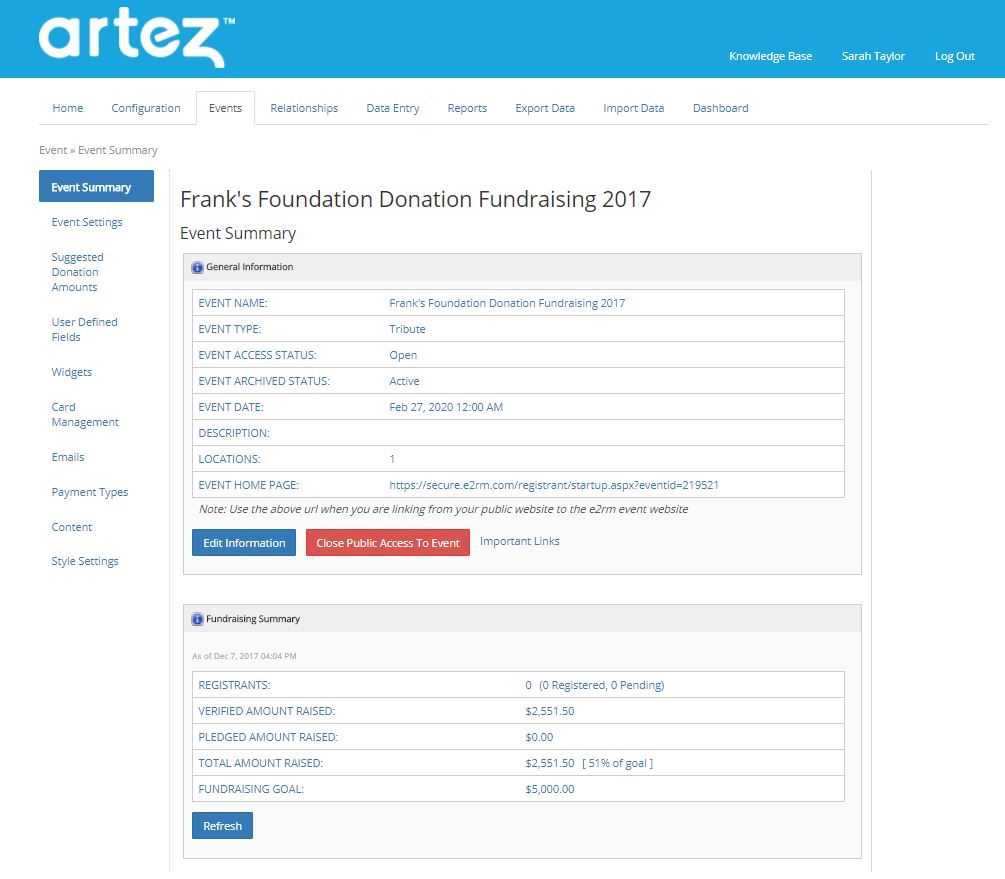 To edit any of this information, click on the Edit Information link. The information found here is the information that you added during the event setup process. 
Open Public Access to your Event

When you first create an event, the event will be set to closed which means that it is closed on the front end.  To Open your event click "Open Public Access to Event".  Even if you open public access to your event, nobody would be able to visit your page unless you have shared the direct link to the website. It's a good idea when you make changes in the backend to regularly check in the frontend to see what your supporters will see. 
Important Links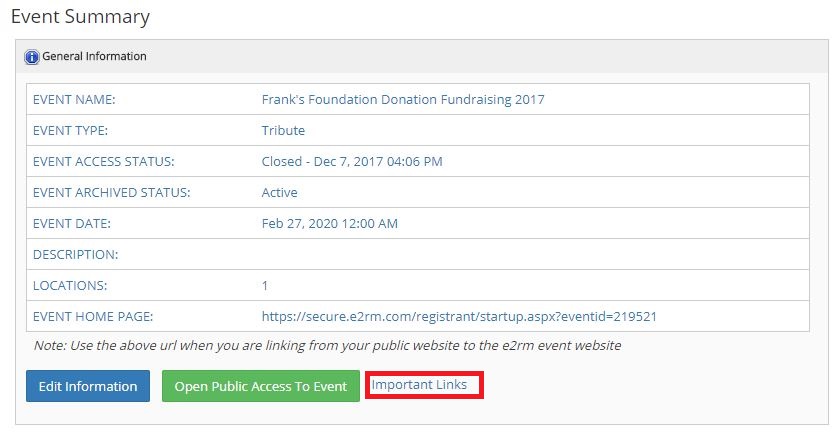 The Important Links button will house the important links to your event that are clean-cut. These are the links that you should be sharing with people. 
 If you take a link from your web browser, it appears as: 
https://secure.e2rm.com/registrant/TicketingWelcome.aspx?eventid=209082&langpref=enCA&Referrer=https%3a%2f%2fadmin.e2rm.com%2fEventSummary.aspx
 The clean-cut link version is instead: https://secure.e2rm.com/registrant/startup.aspx?eventid=209082
 Notice how the verbiage after the number 209082 is gone? Not only is it a shortened link, but it looks a lot cleaner as well! Make sure whenever you share a link, it's from the Important Links section.
 Make Changes to your Event Summary Items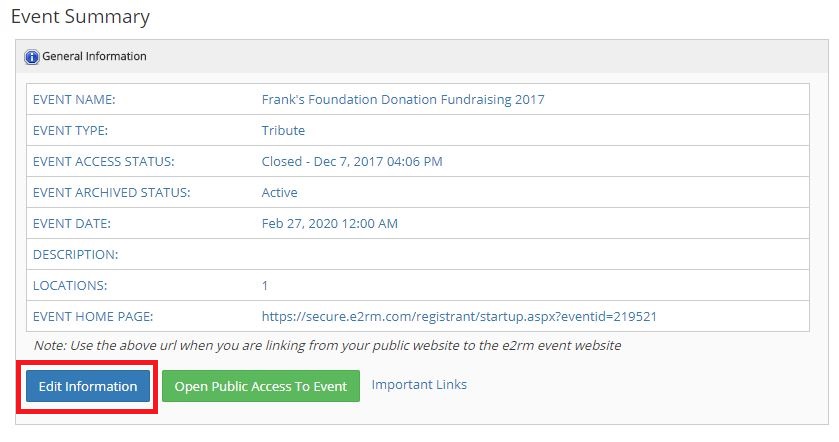 To make any changes to your event summary (dates, gateway, etc) click "Edit Information", make your updates and hit save.
Close Public Access to Your Event

When your event is done and you would like to close your event, click "Close Public Access to Event" and be sure to make updates to your Event Closed Content Page. Closing public access will take people to an "Event Closed Page" and no donations will be processed.  It is recommended you redirect this page to your website or another donation form link. 
Archive your Event

To Archive your event, you must close your event first, then click "Edit Information" and set the status to Archived.  Only when an event is archived will you no longer be able to receive donations (and registrations).  
Note on Monthlies: If you have monthly donations under event, they will still process if you close the event, however they will not process when an event is archived. 
 Here is a summary of what each item means under the Event Summary Section:
General Information
Event Name
Event Type:  Event/Campaign Type, Donation Form, Purchase Items, and Tribute Form
Event Access Status: Open or Closed for public access
Event Archived Status: Active or Archived
Description: Administrators description
Registration Dates: Relates to the Event/Campaign Type only. Controls the appearance of the Sign Up button
Locations: Relates to the Event/Campaign Type only. Displays the number of locations
Setup: Team configuration
Event Home Page: URL for your webpage that is to be used on your external website
Fundraising Summary
Registrants: Relates to the Event/Campaign Type only. Displays the number of registrants in your event
Teams: Relates to the Event/Campaign Type only. Displays the number of teams in your event
Verified Amount Raised: Displays the amount of verified funds that have processed
Pledged Amount Raised: Displays the amount of unverified funds that have entered
Purchase Order Total: Relates to the Purchase Form only. Displays the total purchases that have been processed
Total Amount Raised: Displays the total amount raised
Fundraising Goal: Relates to the Event/Campaign Type only. Displays the event fundraising goal as defined