Let's Learn
Click on the Content tab underneath the Pages tab to edit and add content to all of your pages.
Add Content Sections
Step 1: To add new content under your Main Section, click on the Add Content button.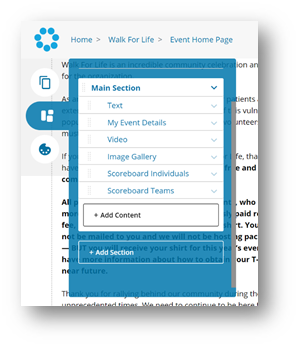 Step 2: Then select the type of content you'd like to add:
Text
Individual and Team Scoreboards
Donor Listing
Videos
Single Image or Image Galleries
Sponsors
Social Sharing Options
Event Details
Search functionality
Progress Bar

Step 3: Next you can edit or add text by clicking directly into the content block and typing in the text. You can use the text tools to customize size, font, layout, colors, etc.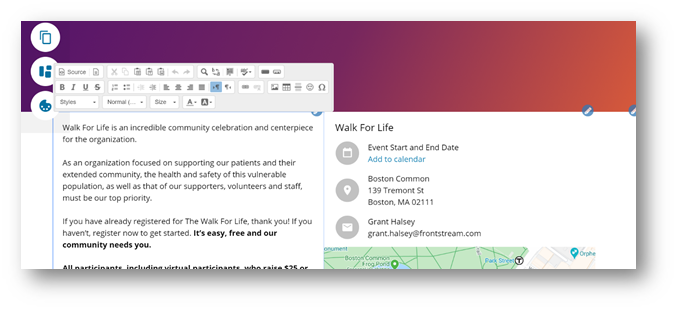 Step 4: Click Save.
Update Page Layout
Step 1: Rearrange your page layout by dragging and dropping content sections in the order you want them on your page.
In the drop down menu, click on the left-hand corner of the section you want to move and drag it above or below where you want it to go. You'll see your changes made in real-time.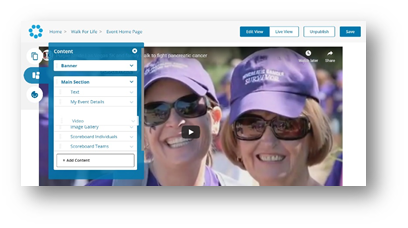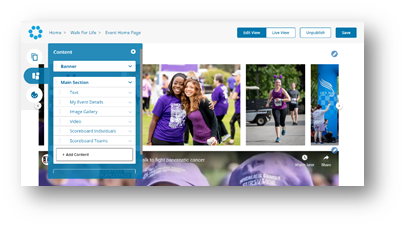 Step 2: Click Save.
Update Event Settings
Step 1: You can update event settings by clicking on the Event Name in the breadcrumb in the editor.

Note: You can also click on Event from the Project List view and navigate to the Details tab.
Save and Publish Your Work
Step 1: Always remember to click Save in the top right corner every time you add content to or update your pages.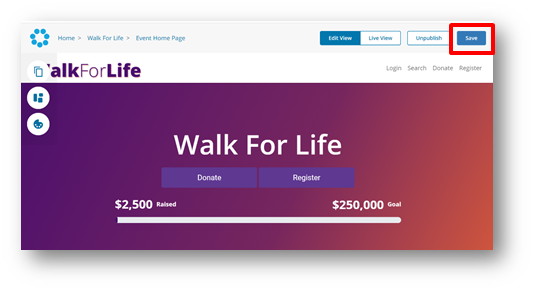 Step 2: You can publish and unpublish your event from the event editor by clicking on the Publish/Unpublish button located beside the Save button.
A published event will be available to the public.
An unpublished event will not be available to the public and will display the Event Closed page.
You can also Publish, View the Live Page or Delete the Event from the Details Tab.
Note: An event can only be deleted if there are no registrations or donations made to the event. If there is activity in the event, we recommend unpublishing the event.