Let's Learn
How to Build Email Segments
Step 1: In the left-hand menu of your Panorama Admin homepage, click on Emails, then Compose New Email.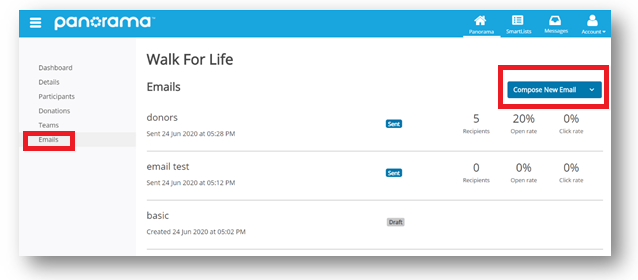 Step 2: Next you can input your subject line and choose which segments of contacts you would like to include in the email.
You can build out segments of your contacts based on whether they have already donated or registered both for this project or any of your past projects.
You can filter based on contacts who have donated or not donated, registered or not registered, received mailing or not received a mailing already plus if the contact is included in a SmartList.
You can also set secondary filters for donors and registrants to segment further.
Select Did not receive mailing if you want to schedule a weekly email to send to only new registrants.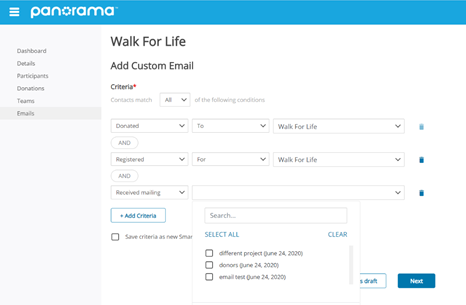 Helpful tip! When building out segments, you can check the box beside "Save criteria as new SmartList" to save as a list to use for future emails.

Step 3: Click Next or Save as draft to work on it later.
How to Add Email Content
Step 1: Add content directly by typing in the content box.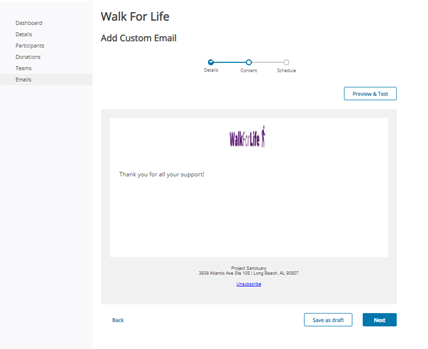 When you click into the content box a text editor tool will appear that will allow you to customize your text font, style, size, etc.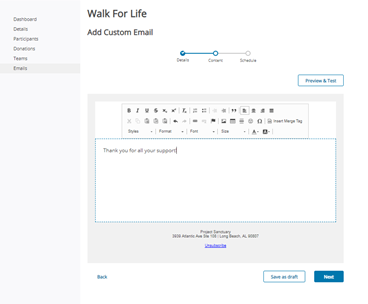 Step 2: Click on Preview & Test to view your email and to send a test to yourself or other recipients.
The default From and Reply-to email addresses are set to no-reply@frontstream.com.
The From and Reply-to email addresses can be changed in Panorama by going to your Panorama Home page, clicking on Account, then Organization.
A value must be entered for the email addresses - if you do not wish to receive emails, please set the Reply-to to no-reply@frontstream.com.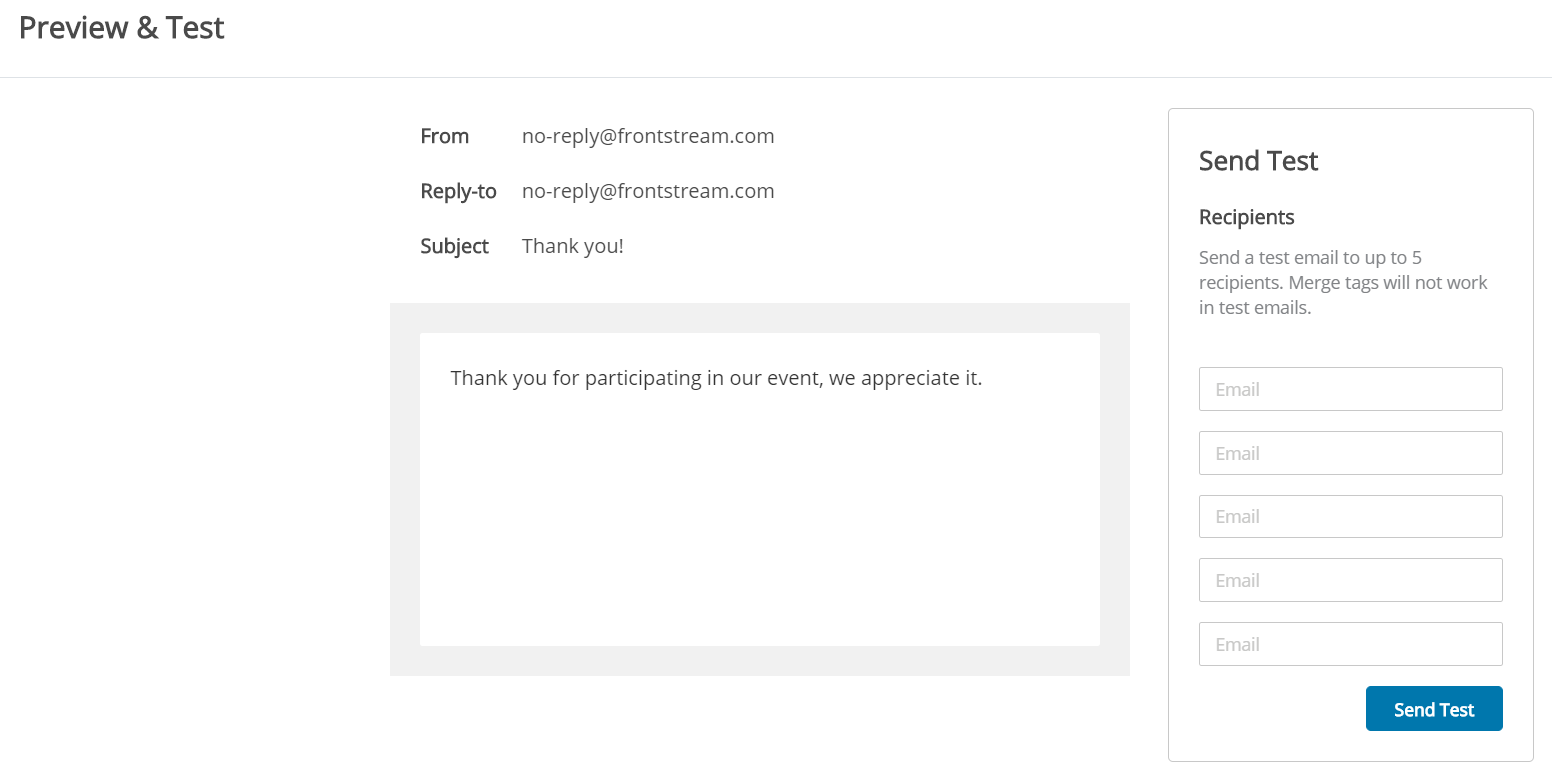 Step 3: Click Next or Save as draft to work on it later.
How to Schedule an Email
Step 1: The Mailing name will pre-populate with the email subject name.
This is the name that will appear in the list of sent or scheduled emails when you click on Emails.
If you would like to change it, type the new name in the field.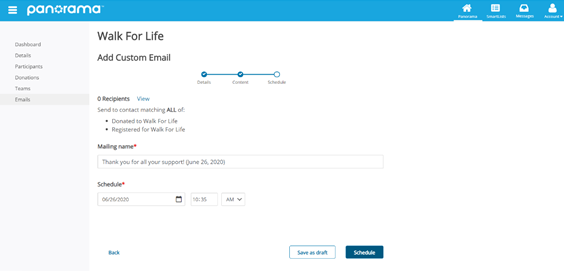 Step 2: Select the date and time you would like the email to go out, then click Schedule.
How to Edit a Scheduled Email
Step 1: Click on Emails, then click on the email name of the email you want to edit.
Step 2: Click Edit, then click Save as Draft to edit the email.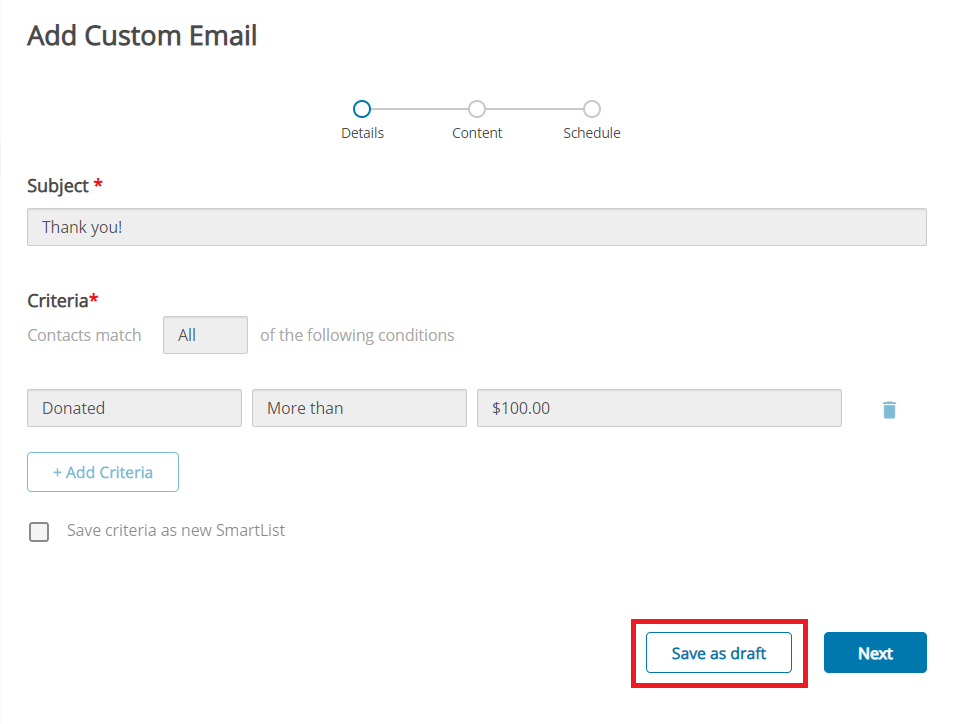 Step 3: The list of emails will then reopen. Select the email from the email list and click Edit to make changes.
How to View Email Statistics
Step 1: View the number of recipients, open rate and click rate of emails that have already been sent in your Email dashboard.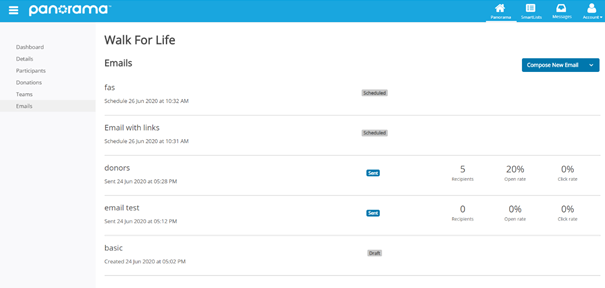 Step 2: Click on the name of an email that has already been sent to see more detailed statistics on open rates, clicks, bounces and unsubscribes.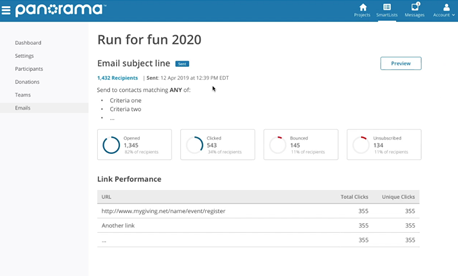 How to Create and Use SmartLists
Step 1: Click on SmartList, then click on Add SmartList to create an email audience or group.

Step 2: Add your SmartList name, description, and criteria.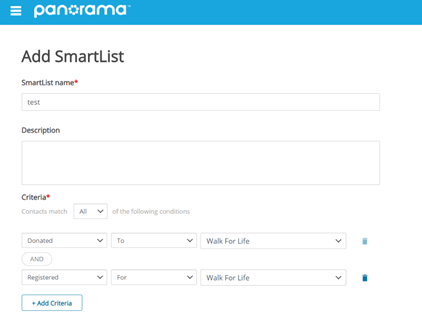 Step 3: Click Edit Columns to add or remove columns, as well as change the order of the columns. Click Update Columns to save your changes.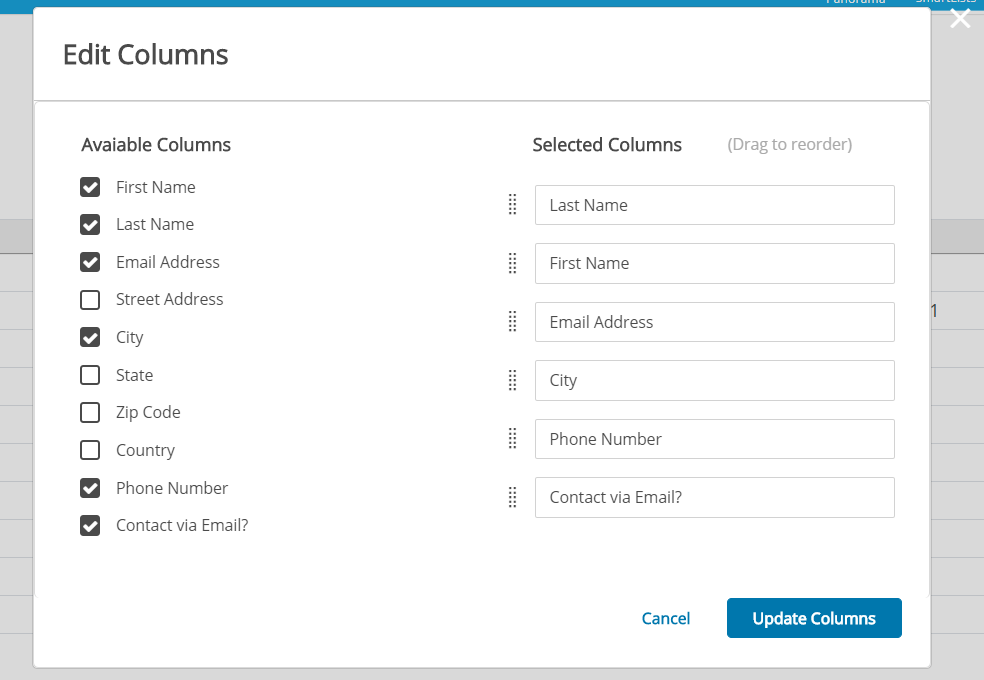 Step 4: Click Export to export your SmartList as a .csv file to import in to another mailing service or to add to another program.
Click the down arrow beside Export to edit or delete the SmartList.

Step 5: To use your Smartlist for a Panorama Peer-to-Peer event email communication, from the Active Projects list select the event that you want to send an email communication for followed by Emails located in the menu on the left-hand side.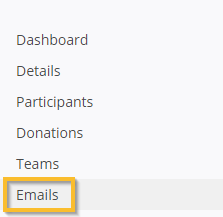 Step 6: Select Compose New Email located in the upper right-hand corner
Step 7: Enter your email Subject and determine if you want contacts to match all of the conditions or any of the conditions
Step 8: Select the drop-down menu for the first drop-down box and select Smartlist Member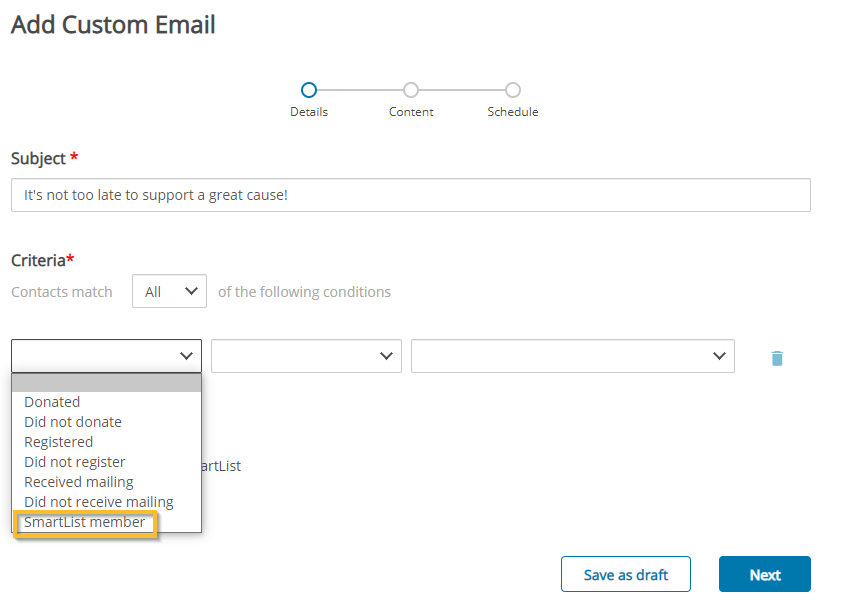 Step 9: Use the second drop-down menu to select the Smartlist or Smartlists you want to send an email communication to then select Done.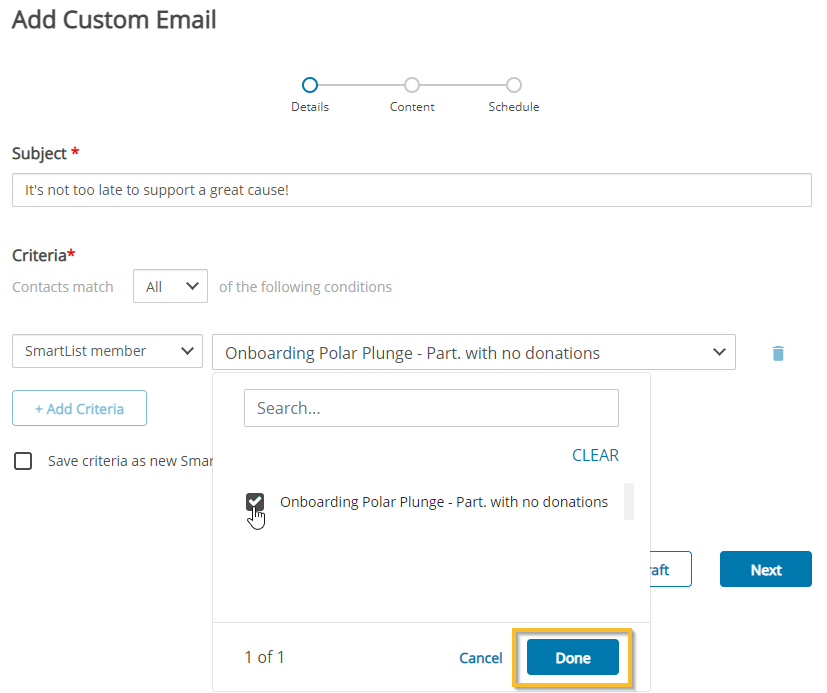 Step 10: Select Next to add your email content then send or schedule your email to be sent on a specific date or select Save as Draft to finish creating your email at a later time.