Tips:
Set up all your locations before you set up registration types
Keep the registration process as simple as possible
In some cases, there will only be one registration type and in others there may be multiple registration types. The table below shows some examples and what you would need to do to set up that situation.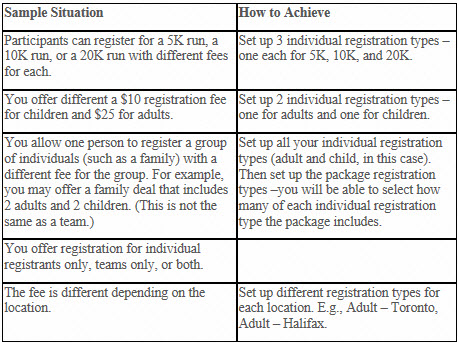 Step 1 Setting up a Registration Type
Edit the Default Reg Type as your first registration type. If you require more, click Create New Registration Type.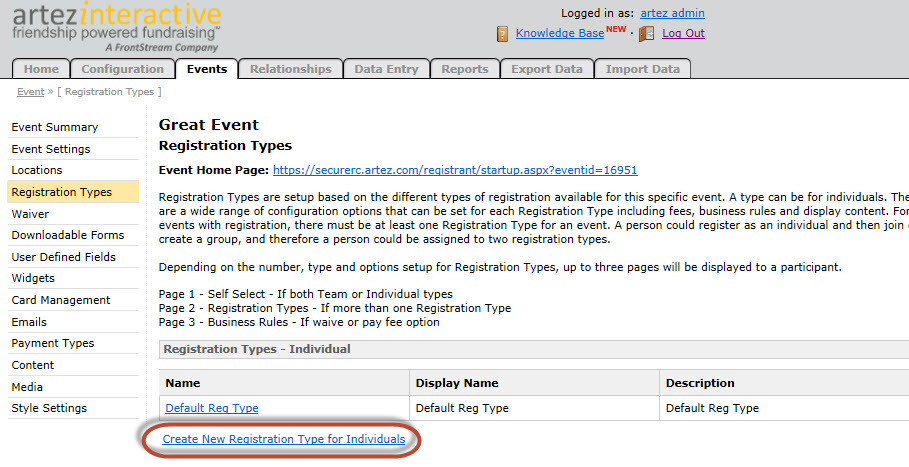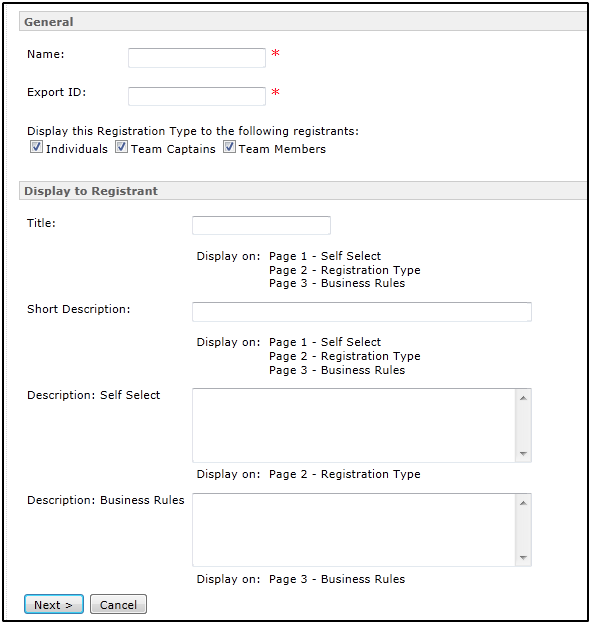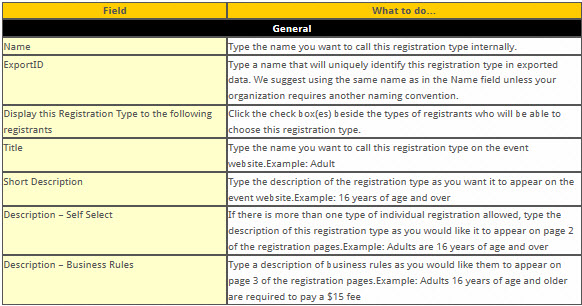 Click Next.
Step 2 Setting up your Business Rules
If you want to enforce a minimum donation during registration,
Click the box beside Require Self-Sponsorship to register and enter the amount
Note: Minimum self-sponsor amount will not be enforced for proxy registrants ("Register Others" feature). It is also not available for group registration types.
If you are planning to charge a registration fee,
Click the box beside Charge a Registration Fee and enter the amount
If you are planning to waive the registration fee in conjunction with a commitment to raise a certain amount:
Click the box beside Waive Registration Fee by Raising and enter the amount
Note: Your participant's registration status will automatically be changed from "pending" to "registered" once she raises the amount. If she is unable to meet the goal, she has the option to pay for her registration fee inside her fundraising hub.
If you are planning to offer a lower registration fee for early registrants,
Click the box beside 1st Discount Period and enter the amount
Select the date that the offer will end
If you want to set a default fundraising goal:
Click the box beside Default Fundraising Goal and enter the amount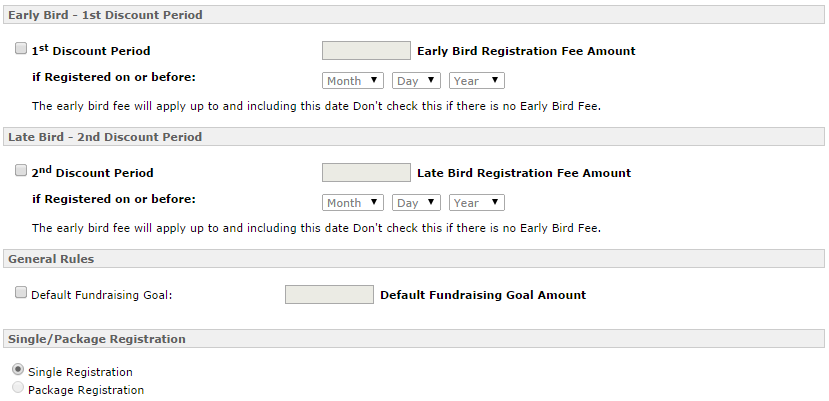 If You Wish To Enforce A Minimum Fundraising Amount
For clients that use the Frontstream Gateway (ArgoFire) we have added the ability for fundraisers to opt-in to raise an NPO defined fundraising minimum. When the fundraiser agrees to the events fundraising minimum, they authorize the charity to charge their credit card if they fail to reach the fundraising minimum.
Enabling Minimum Fundraising Amount
Available for Event/Campaigns that use the ArgoFire gateway, to enable the fundraising minimum:
From the administrator console, go to the Event/Campaign.
Click on Registrations.
Select the individual registration type you want to enable the minimum fundraising amount.
Click on Business Rules.
Place a check mark next to Minimum Fundraising Amount and enter the amount you want fundraisers to agree to. 
Click Submit.
Note: Minimum Fundraising Amount is only visible when the Fronstream gateway is configured for the event. If you don't see the option to enable Minimum Fundraising Amount it is likely due to the event being configured to use another gateway.
Optional: If you want to setup a Package Registration, click Package:
Package Registration can be used if you want to allow one person to register a group of individuals (such as a Family) with a different fee for the group.
Example: You may offer a family deal that includes 2 adults and 2 teenagers (Note- You first need to set up "Adult" and "teenager" registration types in order for them to appear under Package Registration) 

Click Next. In the Display column, select each location (if applicable) where the registration type will be available.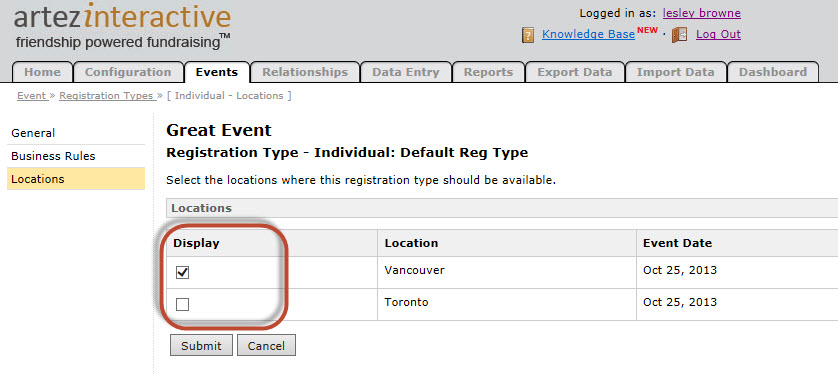 Click Submit. 
Result: During the registration process, your registrant will be able to click on the button "Add Others" to register others on the Additional Information page. 

At anytime you can re-order your registration types: