Fundraising Pro makes creating your new event quick and easy! With the addition of our Event Setup Wizard, you will be guided through the event setup process with a series of simple questions which will impact your event's configuration.
Using the Event Setup Wizard
Step 1: From the administrator console, click on Events.
Step 2: From the left menu options, click on Setup New Event.
Step 3: Choose the type of event you wish to setup and click Next. Please note that the steps may vary depending on the event type that is being created. The steps below will be seen when setting up an Event/Campaign.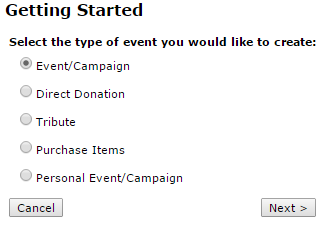 Step 4: You are now given the option to create a new event or create a copy of an existing event.
Create a Copy of an Existing Event
Step 5: If you wish to copy an existing event select "I want to create a copy of an existing event" and click next.
Step 6: You are given the options to select the event you wish to copy, and then the option to specify which settings to copy (or all of them). Select your preferred options and click Next.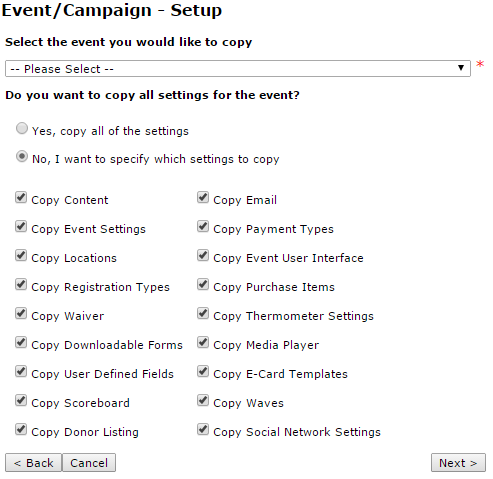 Step 7: Supply the information for your event and click Finish to copy the Event.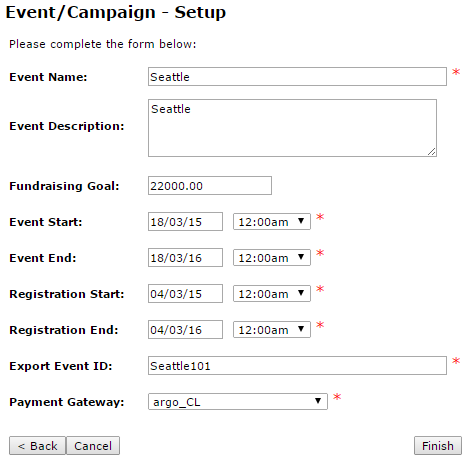 Suggested articles:
Copying an Event- Things to Remember
Event Readiness Checklist for Copied Event