Written instructions are below.
Note: Make sure to get permission from the sponsor before adding their logo to your home page or emails.
Go to Donors > Add Donor/Sponsor

Under the Basic Information section fill in their name under the Donor Name field and their web address (if they have one) under the Website Address field. Entering the sponsor/donor's web address will automatically make their name or image (if they have one) a clickable link from your homepage to their website.

Click 'Choose File' to find the sponsor/donor logo image on your computer. Images can be up to 1MB in size. If they are wider or taller than 120 pixels, they will be automatically resized to fit within 120 x 120 pixel area.


Below the Basic Information section is the Sponsorship Information section. To indicate that they're a sponsor, enter in following information:

Sponsorship Value (Required): What the monetary value of the sponsorship is.
Contribution Type (Required): Cash, In-Kind Trade or Both Cash & In-Kind Trade. In-Kind Trade refers to an item or service a sponsor gives in return for their listing.
Comments: Any additional information you care to note.

Scroll down and click the 'Create New Donor' button to continue.
To highlight your sponsors on your event homepage go to Donors > Sponsorship Center.

You will notice there are 4 tiers available for Global Sponsors.
If you would like, you may customize the labels of each global sponsorship level.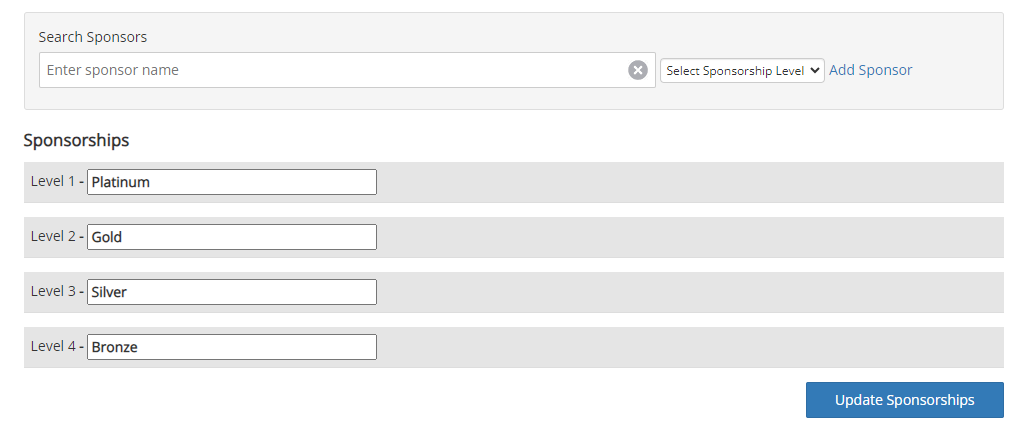 Select sponsors to assign, and move them to the appropriate levels.
There is no limit to global sponsors, and you may order them as needed by dragging them in the order you would like.
On the modern homepage, Level 1 will automatically create a scrollable featured sponsors in the top right corner of your homepage and will list the sponsors at the top where sponsors are displayed at the bottom.
If you do not wish to use the scrollable featured sponsor in the top right of your homepage, either use the classic homepage or remove the level one sponsor.


Click Update Sponsorships