Let's Learn
To host a great virtual auction, preparation is key! The following resources and checklist will ensure to set you up for success. For more information and tips on what to do before, during, and after your event be sure to check out our Ultimate Auction Event Checklist!
Creating Your Auction  
The easy-to-use setup wizard will capture important details such as:  
Login to Panorama and Click "Create Project"

Choose Project Type: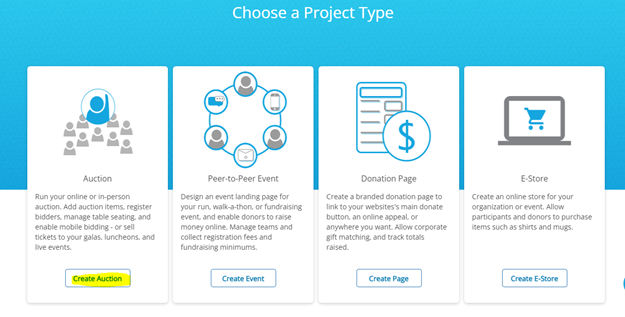 Auction 

n

ame

 

Online 

b

idding 

s

tart and 

e

nd dates, and times

 

Time zone

 

Bidd

er

 Community

Helpful Tip! 

We recommend including most of your items in the Bidder Community so that your items are available to the public to

 

view and bid

. 

Live Event functionality for selling Tickets or Sponsorships

Important Notes!

 

Make sure to activate

 the

Live Event feature to enable the Tickets feature even if you aren't having a Live Event.

 

If you are hosting a

 

Ticket-only event or want to focus on Ticket sales until you're closer to your Auction Open Date pull into

 

Event>

 

Set Up> Auction Features

 

to turn off the

 

Auction Features on the Homepage.
We also recommend enabling the following features in Event > Set Up:
Updating your Auction URL so it's easy to remember

Adding a Fundraising Goal so that your supporters can see your progress and help get you closer to your goal!  

Setting up Google Analytics to track your online auction traffic 

 
Invite Your Team Members 
Invite your auction team members by setting up Panorama User access.  Each team member should have their own login. You can also give staff or volunteers partial access.   

Set Up Your Payment Processor 
If you are set up to use Frontstream Global Fund, no action is required as it has been set up automatically. We recommend that you sign up for weekly direct deposit to receive your funds quickly and easily, instead of receiving a monthly check.  
Alternatively, you can easily set up Stripe or iATS as your payment processor.  
Activate Your Homepage 
Your auction homepage is the first page your supporters will see. If you create multiple homepage templates such as Coming Soon and Auction Open, be sure to double-check your scheduled activation dates and times. Your auction URL will display the homepage based on what is scheduled.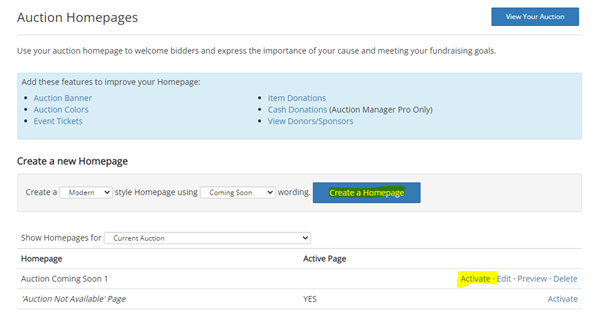 Helpful Tip! Make sure to highlight your organization's mission and where the funds raised will be applied to encourage supporters to bid higher.  
Customize Your Auction Site 
We suggest customizing your colors and adding a great banner to make your homepage look its best.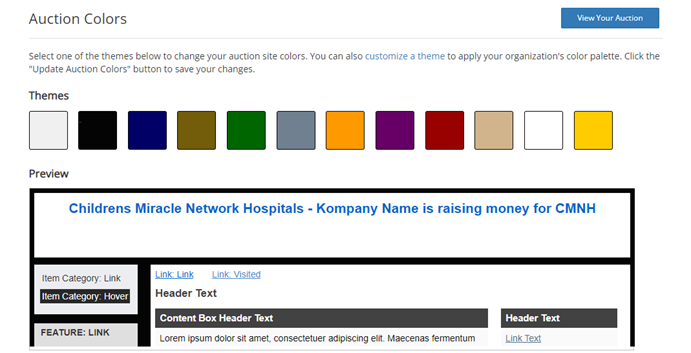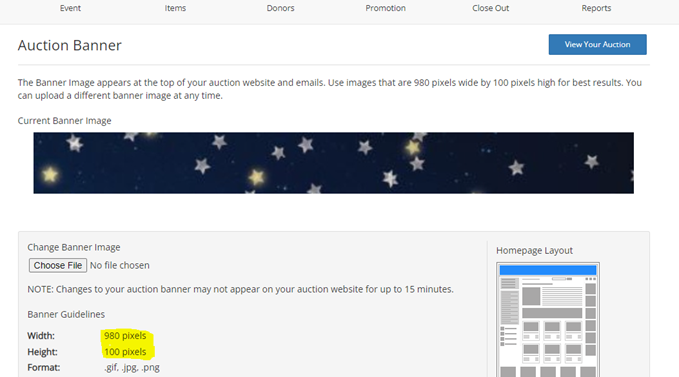 Helpful Tip! Use the toolbar above the text areas to enhance your messaging. You can create clickable links, embed images and videos, and further customize text colors, fonts, and sizing.  
Raise More by Activating Auction Features 
Give your supporters more options to contribute!  
Cover Processing Fees

 

For those processing through Stripe or 

i

AT

S, 

we recommend enabling

 

Cover the Processing Fee

 

For those processing through Frontstream

 Global Fund, 

no action is required

 as 

Cover the Fee

 is enabled

by default

Donate Now 

– 

Enable this feature to accept online cash donations

 

Once this is enabled, be sure to enable the auction statistics and donate now in the homepage for it to appear on the event page.
Item Donations 

– 

Add a 

Donate Items link

on your homepage to make it easy for supporters to donate items

 

(click on Event tab > Web Site > Item Donations to enable)

 

Set up Sponsorships

–

 

Enable

 the

 

Become a Sponsor

 

feature or sell

sponsorships through ticket sales
Add Donors and Sponsors

 
Next, add or import your Item Donors and Event Sponsors.  
Activate the Global Sponsorship Center

 by adding your sponsors to their designated sponsorship tier

 

Highlight your top four sponsors by adding them to the Call Out Box section on the 

ho

mepage

 
Quick Tip! To give your Donors and Sponsors extra value and recognition for their contribution, make sure to upload their logo and add their website with their donor or sponsorship listing.  This allows bidders to click on their logo or name and view the company website.  
Build Your Auction Catalog  
Add or import your auction items to your catalog. When creating items, you can specify the bidding types: online, mobile, buy now only, live event, and online to bid sheet.  Here are some features we recommend: 
Quick Tip! If you are adding shipping fees, we highly recommend that you mention this both on your homepage and on the item description.  
Promote Your Auction 
Now that your auction is built out, it is time to promote it!  
Add the Auction URL to your website – 

Add a link

/button

 to your auction homepage 

on

 your organization's web page. If people forget the auction URL

,

 this is the place they will first check.

 

Strategic Email Blasts – 

You can 

import

 your mailing lists 

or

 

sync with Constant Contact

.  

Create

 your emails and 

schedule

 them to be sent on a specific date and time. 

 

Share on Social Media

 – 

On every 

auction 

page

, there are 

buttons for 

supporters

to share each page via email, Facebook, Twitter, LinkedIn, and other popular sites.

 

Promote Your Auction in Your Daily Routine

 

Add to y

our email signature

 –

 Add the auction URL with a note like "Check out our auction!" in your email signature so that everyone you communicate with 

can

 learn about 

your 

fundraiser.

 

Add an announcement to your phone's opening message –

When people call your organization, they often hear a menu of different departments or people they can speak with. Before going into those options mention your auction and the URL.

 

Send text messages –

Shoot your friends a text message with your auction's URL. 

They

 can easily click on the URL from their phone and head directly to your auction's homepage and browse your catalog.

 

The Classics –

Contact local media, make flyers to promote throughout your community, and post ads in newsletters and regular mailings.

 

 

Auction Promotion Services

– Give your items and auction event greater  visibility!

Feature your auction or promote auction items by purchasing 

space on the

BiddingForGood.com

 homepage.

 

Contact us

 to learn more.